Apple has made it clear on numerous occasions that its iOS devices are no place for porn. Times, it seems, have changed. Playboy founder Hugh Hefner has tweeted that a Playboy app — containing all back and future issues, totally uncensored — is coming to the iPad in March.
Here are 10 possible reasons why Apple pulled a 180 and will bring Playboy to iOS.
10) By "uncensored," Hefner meant that the app will exhibit all of Norman Mailer's wince-inducing racist fiction unblemished.
9) The photos will be uncensored, but so heavily airbrushed that you'll need to run the images through Photoshop just to get through the San Francisco smog.
8) Those buying back issues of Playboy really are doing it for the articles!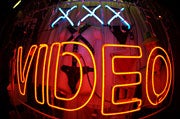 7) Hormone-driven teens have overrun Cupertino in Jobs' absence.
6) The Apple logo will be superimposed on the naughty bits.
5) The Android logo will be superimposed on the naughty bits along with an audio clip of Jobs' saying if you want porn, you'll have to buy Android.
4) Apple plans on rewriting history and making the normal-people-sized models from Playboy's olden days thinner so it can reuse old slogans like "Thinnovation" and "Thin as Always. Faster than ever."
3) Apple hasn't been censoring; it's been waiting for a company as gargantuan as Playboy to pay out the wazoo. Everyone has a price, after all.
2) Apple realizes that with jaw-dropping profits and 90 percent of the tablet market, it's pretty much unbeatable and can stand to loosen up
1) Society as a whole is becoming less prudish. (Nah — that's ridiculous.)