Smartphone users tend to hold strong opinions about the various mobile platforms out there, often displaying feverish loyalty to the one they use and outright disdain for all others. That's particularly evident these days in the competition between iPhone and Android, of course, fueled by Android's rapid ascendance in the marketplace.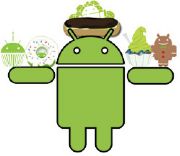 There are clearly compelling reasons for using both platforms, or there wouldn't be much reason for a "war" over which is best. British firm ICM Research, however, set out last fall to better understand Android users' perceptions of their phones, and it recently published a white paper including the resulting data.
Based on a survey of more than 2000 U.K. consumers in October, ICM's findings uncover some interesting insights about today's Android users.
The Open Source Advantage
As I'm an advocate of open source software, the first statistic that jumped out at me was that a full 45 percent of the Android users polled by ICM said they chose an Android phone because it runs on open source software.
"Being open source it means it is quite social," one respondent noted. "I like the idea of Google writing software and putting it out there and anyone can write apps for it."
Android is not entirely open, of course, but such comments are still quite a testament, particularly in light of detractors' recurring claims that the platform's relative openness is somehow a problem or that it makes it less secure.
Sixty percent said Android phones offer more opportunities for customization, and 58 percent feel the platform's handsets are more logical and intuitive to use, ICM reported.
No 'Fragmentation Problem' Here
Seventy percent of ICM's respondents said that Android phones offer better value for the money, and 48 percent agree that an Android device is a better long-term investment than those on other platforms are. Sixty-one percent, meanwhile, said that the wide range of handset choices makes Android the best mobile platform.
So much, it seems, for suggestions that Android's "fragmentation" is a problem.
Apps were a factor as well. Though a need for better categorization was frequently noted regarding the Android Market, 45 percent of current Android users said the market offers the widest range of apps and 43 percent felt the apps available for the platform are better than those created for other smartphones, ICM found.
In all, 67 percent of Android users surveyed said they would recommend the platform to their friends and family, according to the report.
"A phone that is going to stay up-to-date and always have the newest features… the only one that is going to do that is the Android and… you can do what you want with it!" one respondent told ICM.
Business Implications
Bottom line? Android users are a happy bunch, and that fact has implications for businesses large and small.
First and closest to home is that many of the same reasons Android users cite for their own satisfaction could be compelling arguments for business users to embrace the platform as well. As I've said before, Android's flexibility, security and apps–among other factors–all make it particularly good for businesses.
A second key ramification here is that marketers and advertisers must not only have a mobile marketing strategy, but it must increasingly include Android users.
To wit: "The growth of Android means advertisers need to look beyond just having an iPhone app," Alex Kozloff, mobile manager at the Internet Advertising Bureau UK, told Marketing Week recently. "Now it's time to think across all platforms."
Follow Katherine Noyes on Twitter: @Noyesk.