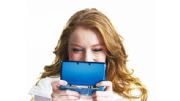 This morning Nintendo answered the two most urgent questions gamers had about its 3DS handheld: "When would it be available?" and "How much would it cost?" The company suggested a March 2011 release date months ago, to follow the official Japanese rollout in late February. It wasn't a surprise, then, to learn that March 27 is D-Day (or '3D-day') for those of you waiting–not patiently–to put the world's first totable 'glasses-free' 3D handheld through its paces.
Pricing on the other hand surprised several. Cynics expecting Nintendo to price the 3DS out of the market at $300 or even $350 were probably disappointed to discover it'll only cost $250 to get your hands on one. Sure, that's what the PSP Go cost as launch, but Sony's disc-free mini-PSP was functionally a step down from the PSP 3000, which at the time cost $80 less (it's still bizarrely $30 cheaper).
Bristling with new tech, from accelerometers and gyroscopes to wireless auto-communication algorithms to the eyewear-free 3D widescreen itself, Nintendo's 3DS is by contrast an epic step up from the $150 DSi in every way.
3D is just the beginning. What do you get when you merge an accelerometer, a gyroscope, a 3D widescreen, a separate touch screen, a 3D camera, an analog input nub, wireless that works when the device is either awake or asleep, and a bunch of communication algorithms that allow two 3DS units to wake up when near each other and exchange information automatically? A device that transcends the label "video games handheld." Welcome to a world in which pocket-sized devices change how you see reality, and memes can create themselves.
It's a library of lifestyle features in an 8 ounce piece of plastic. Want a workout without a Wii? Try the preinstalled fitness app that converts the 3DS into a pedometer and hands out points for getting off your duff and moving around. How about a chat with friends, or an opportunity to make new ones? Pop the thing open and scan for nearby 3DS owners, or just leave it closed and it'll scan for other units to exchange information with anyway. What about fooling with reality itself? Aim the 3D camera at objects in your environment and watch the 3DS transform them into thingamabobs you can fiddle with. "Augmented reality"? Here we go.
It's a portable powerhouse. The PSP–no hardware slouch–pushes pixels on a single 480 x 272 screen. The 3DS pushes visual data around two screens, and if we're counting the 3D split for each eye, three. The top screen's 800 x 240 pixels (400 x 240 pixels per eye) while the bottom's 320 x 240. Contrast with the DSi's paltry 256 x 192 pixels per screen. 3D movies (I demoed a copy of How to Train Your Dragon) stream from SD cards without a hitch, and games like Metal Gear Solid 3: Snake Eater 3D (also demoed) looked as sharp and environmentally complex as anything on the PSP.
It does full 3D without junk on your face. Five years ago, Richard Marks (the EyeToy guy, not the pop artist) told me that future mass-scale interface advances belonged to the least obtrusive ideas. Stuff you have to wear on your head? Chunky fashion-depraved glasses? Forget about it. When it comes to lifestyle technology–especially 3D–people want solutions without head-dongles. The 3DS somehow pulls it off. I've seen it myself. It works without blinking, squinting, or–as with those once trendy 3D stereograms–playing ocular relaxation games to get the hidden 3D images to pop. Nintendo claims the 3DS will take 3D mainstream. Believe it.
Keep tabs on us: Twitter – Facebook – RSS | Tip us off or get in touch