Tablets are usually expensive and often times overcrowded with features. For those looking for a simple alternative to pen and paper, look no further! The NoteSlate is a tablet device that offers pretty much one feature: write with the stylus, in one color. You do still have the option to save the notes, delete them, or even send them to others via e-mail.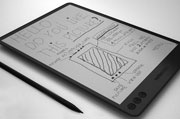 The slate is about the size of an A4 piece of paper and is only about 6mm thick. The e-Ink monochrome display boasts a 750 by1080 pixel resolution, while weighing only 280 grams. Three buttons govern the user interface–one to save the current screen, one to look at screens you've saved, and one to delete the current screen. Amazingly, according to the company, it also features 180 hours of battery life–about 3 weeks of regular daily work. That's an amazing amount of time you can go without a charge, possibly making it easy to forget to charge it.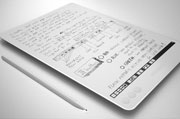 Currently the NoteSlate works on NS Firmware version 0.7 which is meant just for basic writing and drawing. Later with a free upgrade they plan to offer simple .pdf viewer as well as OCR recognition for handwritten text. A multi-color model is also supposed to be in the works as well.
It doesn't have a lot of features but for only $99, it seems like a neat piece of hardware that can really come in handy in a meeting or in class when you have to take down notes quickly and still keep them organized or share them. They're expected to hit the market in June 2011.
Like this? You might also enjoy…
Get your GeekTech on: Twitter – Facebook – RSS | Tip us off