A few years ago, it seemed like every other person had some sort of Bluetooth device stuck in their ear as they walked around talking "to themselves", but the sound quality–both inbound and outbound–left something to be desired and the fad sort of faded. Not to be deterred, though, companies like Aliph have continued improving the technology, and with the Jawbone Era the Bluetooth ear piece might be worth giving the concept another try.
The Jawbone Era is the first Bluetooth headset to incorporate an accelerometer and make use of motion sensitivity to interact with and control the device, but that is a bells and whistles novelty that isn't necessarily revolutionary. What makes the Jawbone Era compelling is the improvements in sound quality. After all–motion control is sort of irrelevant if it can't function as a communications device.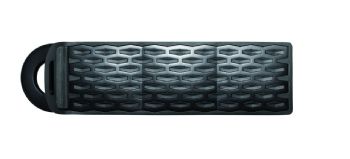 "We're taking wearable devices to an entirely new level." said Jawbone CEO and founder Hosain Rahman in an Aliph press release.
Rahman adds "We've perfected a complete inbound and outbound audio experience that is so rich it is almost addictive–whether you are listening to your favorite song or a phone call. On top of the HD audio, the integrated sensors and intelligence enable magical new ways to interact with device and apps through natural, intuitive motion control, changing forever the way we use headsets."
There are safety and legal reasons to embrace Bluetooth headsets. It is obviously preferable that you keep both hands on the wheel when driving a car, and it would be nice to be able to have both hands free when walking about rather than constantly holding a phone to your ear.
In some areas–like the one I live in–it is also illegal to use a cell phone in any school zone, and it just so happens that school zones seem to occur every 500 yards or so. But, Bluetooth communications, whether built in Bluetooth communications in your vehicle, or a Bluetooth headset like the Jawbone Era, are acceptable.
The problem in the past has been quality. I have owned a number of Bluetooth earpieces similar to the Jawbone line, and I have used built-in Bluetooth communications in a couple different vehicles. Inept noise-canceling and poor sound quality of the microphone always led to complaints from the caller, and the quality of the inbound sound often made it difficult to understand the other party. It would work if absolutely necessary, but I have always reverted to just using the phone the old-fashioned way following disappointing Bluetooth experiences.
There are other cool features of the Jawbone Era–like the motion control, a caller ID function that speaks your callers name, and an iPhone app that monitors battery life of the headset. But, the number one reason that I plan to check out the Jawbone Era is the improved HD audio sound quality.