Google Voice users may soon be able to turn their cellphone numbers into their central Google Voice number for $20. The search giant recently started testing a number porting service for Google Voice with a small group of users. The feature requires you to cancel your mobile contract and move your phone number from your carrier to Google. Engadget was the first blog to report the new feature after a heads up from Twitter user QQforU.

Google Voice Explained
Google Voice is a freemium service that ties all your different phone lines, including your mobile device, office and home numbers, into one central phone number. If someone calls your Google Voice number, all your phones ring until you pick up the call on one of your phones. Google Voice includes other helpful services such as text messaging, voice mail transcripts and overseas calling rates.
One downside of Google Voice is that if the service is going to be of any use, you have to distribute your new Google Voice number to all your contacts. Otherwise, you will only get calls on your individual lines instead of routing calls through one central number. Google's new number porting service appears to solve this minor dilemma for a price.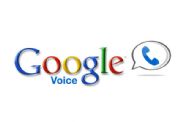 On top of the $20 charge for moving your number to Google Voice, you have to cancel your mobile contract. That means you may also end up paying an early termination fee to your mobile carrier if your cellphone is still under contract.
The termination fees can end up costing you hundreds of dollars. Verizon came under criticism in 2009 when its fee went as high as $350, and there were reports last January that termination fees for the Google Nexus One handset on T-Mobile could reach $550.
To see if your account is sporting the new feature, log in to your Google Voice account and click on the "Settings" drop down menu in the upper right corner. Select "Voice settings" and you should see a port option under the "Phones" tab. Not all Google Voice users are seeing the new feature, so don't be surprised if it's not available.A Google spokeswoman, said, "We're continually testing new features to enhance the user experience. For a limited amount of time, we're making the Google Voice number porting process available to users. We don't have any additional details to share at this time, but plan to offer this feature to all users in the near future."
Engadget is also reporting that Google has pulled the number porting service, at least for now. Google said as early as 2009 that it wanted to provide a number porting service, so, as the Google representative said, you can count on seeing this service again.
Connect with Ian Paul (@ianpaul) and Today@PCWorld on Twitter for the latest tech news and analysis.