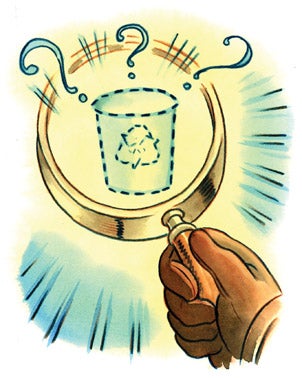 Has your Recycle Bin disappeared?
Before I tell you how to solve the problem, you need to answer one more question: Was the Recycle Bin ever actually there? I've seen a lot of new PCs that come with the feature disabled (and most users never bother to look for it until they need to recover an accidentally deleted file).
Of course, sometimes the Bin does get deleted by accident, and sometimes a third-party program or weird Windows glitch turns the feature off. Whatever the case, it's usually easy to recover.
Step by Step
Step 1. Windows Vista and 7 users can click Start, type desktop icons, and then click Show or hide common icons on the desktop.
Step 2. Enable the checkbox next to Recycle Bin, and then click OK.
Step 3. If that doesn't do the trick (or if you're an XP user), Microsoft has posted a Fix-it–an automated troubleshooter–devoted to this problem. Head to Microsoft Support, and click Run now when the Fix-it box appears. (If the box doesn't appear, scroll down to the Fix-it button.)
(For more solutions to perplexing PC problems, see "The 21 Greatest PC Mysteries–Solved!")
Note: When you purchase something after clicking links in our articles, we may earn a small commission. Read our affiliate link policy for more details.