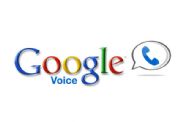 If you're one of the few Google Voice users granted the option to port your existing phone number to the service–congratulations. This new feature is being tested by Google now, and will roll out to all users in the "near future," according to a company spokeswoman.
Google Voice is a phone management service whose features include call forwarding, call screening, visual voicemail, and free text messages. There are many advantages to making a Google Voice number your primary point of contact, but handing over your old number isn't a decision to be made lightly. Your cell number, after all, is precious — I've had the same one since high school — so here are five things to think about first:
Early Termination Fees
As my colleague Ian Paul points out, porting your cell phone number to Google Voice before your contract is up will result in a $20 charge from Google and an early termination fee from your cell phone carrier. These fees can be as high as $350, depending on type of phone, carrier and time remaining on your contract. Find out how much you'd owe before making the switch.
Use of Gmail Calling
Just to be clear, Google Voice is not a VoIP service. It will consume voice minutes for cell phone calls. But Google does have a VoIP service that works through Gmail, and you can set it up to work with your Google Voice number. Calls to and from Gmail are free within the United States and Canada through the end of 2011, so this is a great way to save cell phone minutes when you're at a computer.
Text Messaging Habits
As I mentioned above, Google Voice lets you send and receive text messages for free, potentially resulting in huge savings on your monthly wireless bill. (MMS messages will still cost extra, because Google Voice doesn't support photos or video in its messages). However, T-Mobile and Sprint already offer unlimited messaging with their smartphone plans, so there's no financial gain to be had with those carriers.
Android User?
The Google Voice apps for iPhone and Blackberry are fine, but you can't tap the service's full potential without an Android phone. The app for Google's operating system lets you customize ringtones and dial directly through the app (instead of bouncing you to the default dialer). It also integrates messages directly into Android's notification bar.
Faith in Google
Porting your cell number to Google Voice seems simple enough. You pay the $20 fee, get another number from your wireless carrier and set up call forwarding through Google Voice. But it's not yet clear what happens if you to port your number back to a wireless carrier — say, if you get tired of the service, or if for some reason Google stops offering it. I've had the same phone number for a decade because carriers have a system for transferring numbers amongst themselves. I'm not sure whether carriers are equipped to grab your number back from Google.