Google co-founder Larry Page will take over as Google CEO in April from Eric Schmidt, who will remain with the company as executive chairman.
The change is an attempt to streamline the company's top-level decision-making process, the company said on Thursday, when it reported its 2010 fourth-quarter earnings.
[With Schmidt Out, Google Can Concentrate on Products]
On a conference call, Schmidt said in his new job he will focus more on external issues, working with customers, partners and government.
"I believe Larry is ready," Schmidt said. "His ideas are very interesting and clever and it's time for him to have a shot at running this."
Page praised Schmidt's leadership over nearly a decade and said his advice as executive chairman will be invaluable.
"The results speak for themselves," Page said. "There's really no one else in the universe who could have accomplished what Eric has done."
Controversial Comments
Schmidt has made a series of controversial statements over the past year. Last August, for instance, Schmidt told the Wall Street Journal that young people should consider changing their names when they reach adulthood so they can hide from any embarrassing disclosures they made on Facebook or other services.
In October, Schmidt said that people who were concerned that Google Street View photos were invading their privacy "can just move."
The company also came under withering criticism for a Net neutrality plan it advocated along with Verizon. Critics said the plan would do more harm than good when it comes to keeping networks open to all data.
In a post on the Official Google Blog, Schmidt wrote this about the transition:
"For the last 10 years, we have all been equally involved in making decisions. This triumvirate approach has real benefits in terms of shared wisdom, and we will continue to discuss the big decisions among the three of us. But we have also agreed to clarify our individual roles so there's clear responsibility and accountability at the top of the company."
"Larry will now lead product development and technology strategy, his greatest strengths, and starting from April 4 he will take charge of our day-to-day operations as Google's Chief Executive Officer."
"Sergey has decided to devote his time and energy to strategic projects, in particular working on new products. His title will be Co-Founder. He's an innovator and entrepreneur to the core, and this role suits him perfectly."
"As Executive Chairman, I will focus wherever I can add the greatest value: externally, on the deals, partnerships, customers and broader business relationships, government outreach and technology thought leadership that are increasingly important given Google's global reach; and internally as an advisor to Larry and Sergey."
"Larry, Sergey and I have worked exceptionally closely together for over a decade-and we anticipate working together for a long time to come."
Praise from Page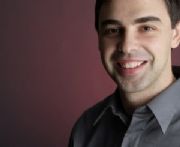 Page praised Schmidt in the statement, saying he has done an "outstanding job" and calling him a "tremendous leader."
"There is no other CEO in the world that could have kept such headstrong founders so deeply involved and still run the business so brilliantly," Page said in the statement.
Schmidt said this change has been under discussion "for a long time" as the company tries to "simplify" its management structure. "By clarifying our individual roles we'll create clearer responsibility and accountability at the top of the company. In my clear opinion, Larry is ready to lead and I'm excited about working with both him and Sergey for a long time to come," he said in the statement.
Google's other co-founder, Sergey Brin, will oversee strategic projects. Brin said he wants to focus more on his personal passions, including several "significant" new products. He said he would talk more about those products in the future, saying Google had recently been accused of announcing "vaporware" for discussing new products too vaguely.
Schmidt became Google's CEO in 2001, steering the company through its massive financial growth, including its IPO, as well as through a significant expansion of its technology and business focus beyond its core search engine market.