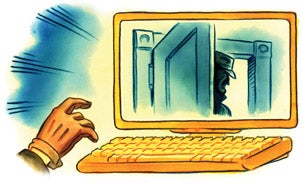 You've probably read stories about "drive-by downloads," viruses and spyware that sneak onto your PC when you visit a rigged Website. And that's a hard truth: The seemingly innocent act of clicking a link–even one that's at the top of a Google search-results page–can lead to malware infestations. How do you figure out whether a link is safe before you click it?
Start with Web of Trust, a free browser plug-in that's available for Chrome, Firefox, Internet Explorer, Opera, and Safari. This clever tool vets search results before you click them, using a traffic-light rating system (red, yellow, green) to indicate which links you should avoid, which require caution, and which are safe. Web of Trust includes crowdsourced ratings, meaning that a site's reputation is based on other users' experiences with it, not on some potentially outdated definition file. (You can add your own ratings as you surf, though that's entirely optional.)
Keep in mind, however, that while Web of Trust works well with browser-based e-mail services such as Gmail and Yahoo, it won't help you with messages received in Outlook, Windows Live Mail, and other desktop clients. For such support you should install some kind of local security software.
(For more solutions to perplexing PC problems, see "The 21 Greatest PC Mysteries–Solved!")