At a Glance
Expert's Rating
Pros
Excellent business and entertainment features
Superb keyboard
Cons
HSPA+ is spotty
Camera is average
Our Verdict
The Cliq 2 is an excellent follow-up to the original Cliq with a superb keyboard and some very useful features, but if you take a lot of pictures with your phone, you'll be disappointed with the mediocre camera.
When the Cliq came out back in fall of 2009, I was pretty impressed with it. It was the third Android phone to debut in the United States and the first from Motorola. What I liked best about it was how much thought Motorola put into its design. But the affordable Cliq 2 ($100 with a two year contract from T-Mobile; price as of January 18, 2011) makes the first Cliq feel like a child's toy.
Grown-Up Design
The Cliq 2 is is a bit less plasticky than the original Cliq, and it feels sturdy in hand. The face of the phone is black, with a chrome border surrounding it. The rubberized battery cover gives the phone some visual interest and provides a nice grip. The 3.7-inch 854-by-480-pixel TFT display takes up more of the real estate on the phone's face, with room below it for four touch-sensitive keys: Menu, Home, Back, and Search. Measuring 4.5 by 2.4 by 0.57 inches, the Cliq 2 is a bit chunky due to its slide-out keyboard.
I loved the original Cliq keyboard's dome-shaped keys, but the Cliq 2 improves on this concept. The Cliq 2's keyboard sort of resembles a honeycomb. Rather than consisting of individual keys with space between them, the keyboard is a single solid piece. I had no trouble quickly banging out a long message on it. It is definitely one of the better physical keyboards I've used.
Brand New MotoBlur
The new MotoBlur interface running over Android 2.2 is toned down a lot from the first iteration of MotoBlur, which we saw on the original Cliq and phones like the Backflip. Even so, you need to tweak the settings a bit to avoid social networking overkill. When you first set up the phone, MotoBlur will ask you to link your Facebook, Twitter, MySpace, LinkedIn, Google and other accounts. But don't link an account unless you check it every day. Otherwise, your phone's homescreens will become inundated with updates you don't care about.
You can set different homescreens for Work, Home, and Play. The multiple profiles sort of remind me of another phone on T-Mobile, the HTC-designed myTouch 4G. MotoBlur has a few features that work for both business and pleasure. For example, the Calendar lets you create new events and e-mail messages or text them to your friends or work colleagues. You can easily change meeting times and locations, and see who is on your respondent list.
Other business-oriented features include a preinstalled Quickoffice, the ability to perform a remote SD Card wipe (something IT departments might find handy), and the ability to locate your phone remotely if it gets lost. Motorola says that SD Card encryption will be available via a software update scheduled for later this year.
As for the fun stuff, the Cliq 2 comes preloaded with Blockbuster OnDemand (convenient if you are one of the few people who opt for Blockbuster over Netflix).
Camera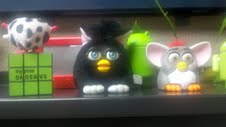 The 5-megapixel camera is okay, but far from spectacular. All of my photos–whether taken indoors or outdoors–had a strange hazy quality. I tried cleaning the lens, but the problem remained. The camera's interface is the same one you find on Droid phones. It's not my favorite (I prefer the native Android 2.2 camera interface), but it is easy enough to use.
Like other MotoBlur phones, this one won't let you sync your Picasa account to it. This shortcoming is unlikely to affect most people; but if you're a Picasa user (like me), it represents an annoying tweak from the native Android Gallery app.
Performance
The Cliq 2 sports a 1GHz processor–as do many other high-end smartphones on the market–but the processor is not dual-core.
I had some trouble picking up a 4G signal in San Francisco. As we discovered when we tested the T-Mobile G2, T-Mobile's HSPA+ network is only in certain pockets of San Francisco–and the PCWorld office in the South Park neighborhood isn't one of them. But even 3G speeds were slow over here. Using the FCC-approved Mobile Broadband Test app, the Cliq 2 achieved download speeds of 0.99 mbps and upload speeds of 0.32 mpbs. I frequently ran into network issues when connecting to the browser or to the App Market while testing the phone, too.
Like other T-Mobile Android phones, the Cliq 2 can function as a mobile hotspot, so you can connect multiple devices. You also get calling over Wi-Fi. This worked pretty well; I was able to connect my laptop, my iPod, and a camera to the network.
Call quality over T-Mobile's network was average overall. Calls made indoors, in quiet environments, went smoothly. My callers on the other end of the line reported that they could hear my voice clearly but noted that it sounded a bit distant. When I got outside though and made calls from a busy city street corner, they could hear the chatter of the diners at the café behind me better than they could hear my voice.
Conclusion
The Cliq 2 is fast, has a multitude of entertainment and enterprise features, and is nicely designed. It's also incredibly affordable, especially for a 4G 1GHz phone running the latest version of Android. If you take a lot of pictures with your phone, though, you might opt for the T-Mobile myTouch 4G or the Samsung Vibrant, both of which have better cameras.