Just why exactly is Eric Schmidt stepping down as Google's CEO? The closest Schmidt comes to explaining why is revealed in his now infamous tweet: "Day-to-day adult supervision no longer needed!"
That's not a satisfying answer. And it has only fueled speculation that Schmidt is really gearing up for a job within the Obama Administration or getting ready to be a human Google punching bag for an impending bureaucratic crap storm set to slam into Google soon.
In the absence of a more transparent tweet from Schmidt, here are five plausible reasons he is stepping down as Google's CEO.
1. Out of Gas
Schmidt has lost his energy and focus. That problem became acute about a year ago when he spent a lot of effort trying to keep Google's founders Larry Page and Sergey Brin from withdrawing censored searches from China. "Nudged by a board-member friend and an outside advisor that he [Schmidt] had to re-energize himself, he decided after Labor Day that he could reboot," Ken Auletta wrote in the New Yorker online today. "He couldn't. By the end of the year, he was ready to jump on his own."

2. Going Out With a Bang
Schmidt wants to go out at the top of his game. He's had an outstanding decade at the helm of Google, capped by knocking Microsoft off its lofty perch in the tech pecking order. The battles ahead promise to be difficult and it appears Schmidt doesn't want to fight them. "Eating Microsoft's lunch may have been the salad days for Google," Michael Arrington wrote in TechCrunch. "Now they're fighting dual wars with Apple and Facebook, and the odds, in my opinion, aren't completely in their favor."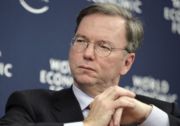 3. Bureaucratic Martyrdom
Google is entering a new era and it's time for the troika at its head to realign their duties. There are going to be lots of distractions in the coming months–lawsuits, Department of Justice rumblings and privacy grumblings–which could interfere with innovation at and management of the company. Schmidt may be ready to be a lightning rod for those distractions. "So Schmidt, in the scenario that Google's laid out, tackles all of these issues, which leaves Page to run the house," observed Seth Weintraub in Fortune.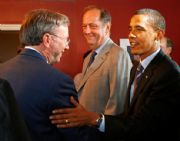 4. Bureaucratic Ambitions
Schmidt wants a government job. He's already an advisor to President Obama and reportedly they have a great rapport. "Obama needs to bring in people from the business sector with Schmidt's credentials," opines tech columnist John Dvorak. "So I'm expecting some sort of appointment to a commission or council or panel or some other precursor to whatever real job he gets."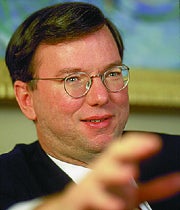 5. No Adult Supervision Needed
Adult supervision is no longer needed at the company. When Schmidt arrived on the scene, the running joke was that he provided adult supervision for Page and Brin. To listen to Schmidt today, that responsibility clearly isn't needed any more. "In this new role I know he [Page] will merge Google's technology and business vision brilliantly," Schmidt wrote in the official Google blog. "I am enormously proud of my last decade as CEO, and I am certain that the next 10 years under Larry will be even better! Larry, in my clear opinion, is ready to lead."
Note: When you purchase something after clicking links in our articles, we may earn a small commission. Read our affiliate link policy for more details.