All businesses need basic services such as e-mail hosting, document sharing, and file editing. The ways to set up these functions vary greatly, however–pick the wrong method, and you'll waste time and money.
For example, you don't need to cover the costs of your own server, since the various Google Apps for businesses shift these tools into the cloud. Plus, the online approach makes your organization more mobile, since it allows you and your staff to connect from any computer and from most smartphones.
Google's offerings for businesses differ from the company's consumer applications. But that's just the beginning. In this article I'll reveal tips and tweaks that can supercharge Google's tools to improve your business's productivity. Whether you are just beginning to explore Google Apps or are already a subscriber, these tricks will help you get the most from the services.
Google Apps Collaboration Tools
In addition to handling your e-mail, Google Apps can help people in your business collaborate. Many tools are available, covering everything from scheduling to document creation to videoconferencing. And though you save everything in the cloud, Google maintains good security to protect your data.
Google Calendar can help you keep appointments and share scheduling with groups. The business service is similar to the consumer version, but oriented toward clusters of employees. You'll be able to share workday details with coworkers so that they know when you're free for a possible meeting, for instance. The tool can send meeting invitations and update itself as recipients verify their attendance.
Google Docs imports and edits basic office-suite files, including .doc, .ppt, and .xls files in its word processor, presentation tool, and spreadsheet app, respectively. Multiple staffers can share documents, each person editing them without worrying about losing someone else's changes (as they might when downloading and uploading documents to a file server). Google keeps a complete history of each contributor's updates, and colleagues can even edit files at the same time. This setup can serve as a great group note-taking space for a conference call or during a presentation.
Google Sites, available in each edition of Google Apps, acts as an intranet Website. You can use it as a company bulletin board for everyone, store HR policies, highlight an upcoming event, or otherwise organize information. Google Sites and Google Docs can store any document type, so you can use them for simple file sharing, too.
Google Groups, available in the Premier Edition, acts as a center point for collaboration. Groups allow staffers to send messages within mailing lists at your company, such as a sales-team list. In addition, members can share a calendar and documents as a group. When new people join the group, they gain access to the message history as well as to the rest of the information, so that they can get up to speed with in-progress plans.
Google Video, another Premier-only service, is essentially your company's own version of YouTube. You can post private, internal videos for training, collaboration, or any other use. The tool also hosts your public videos, eliminating another subscription or service that you might need.
Using Gmail for Business
The main difference between consumer Gmail and the version available through Google Apps is easy to spot: custom domain names. Instead of an @gmail.com address, you get @yourbusinessname.com, which makes a major difference in your branding, even if you operate a sole proprietorship. I know I always assume that bob@bobsmithconstruction.com (or even @bobsmith.com) represents a more established business than does bobsmith@gmail.com.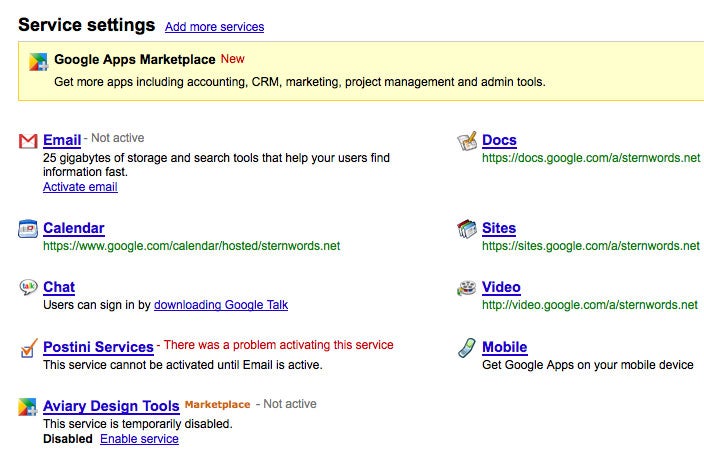 If you already own a domain name, such as for your Website and current e-mail, you'll point its MX records to Google. Essentially, when computers contact your domain registrar to locate your mail server, the MX record creates a forwarding address to Google so that mail still flows properly to you. If you don't own a domain name yet, Google can register one for $10 a year, configuring it automatically.
Small businesses might be content with the free Standard Edition of Google Apps. It supports up to 50 e-mail addresses, each with 7.4GB of storage space. Each e-mail address can send messages to 500 different recipients each day. Unless your business has a wide volume of daily contacts, those limits should be fine. But like consumer Gmail, this mail service includes ads, which might be a reason to move up.
The paid, $50-per-year-per-user Premier Edition eliminates ads and increases those limits. Each address can send to 2000 recipients per day, and you get 25GB of storage per e-mail address.
With the paid or free version, you can share contacts within your company, pooling resources from Web-based or mobile Google Apps.
Next: Tweaking Gmail, Calendar, and Voice
Turn Off Ads in Premier Edition Gmail
If you use the paid, Premier Edition of Google Apps, you might be annoyed to see text ads in your mail service. Relax. Here's how to turn them off.
When logged in as an administrator, click Manage this domain at the top of the page. Pick Domain settings, and check the box in the middle of the page for Hide all ads for [your domain]. Click Save changes. That's all it takes, although I'd rather Google assume that paid users want ads off by default.
Follow Business Leads Within Gmail
What happens to your important but misaddressed e-mail, such as when a new client tries to reach out to your business but misspells your name? You can create e-mail aliases for suspected misspellings, catch all misdirected e-mail, and make a group e-mail address for certain teams.
While logged in as an administrator in the Dashboard, click Email. Pick the Email addresses option. Click the user's name. Scroll down, and click Add a nickname. Enter an alias there–I added "zach." Click Save changes.

Other misaddressed messages might be junk, but you can catch them just in case they're important. Go to Service Settings, Email. Scroll down to the 'Email routing' section. Click the radio button for Route to catch-all address, enter your username, and click Save changes.
Google Groups can manage internal communication, but you can also use Groups to receive messages from anyone. That way, you could have a sales@yourbusiness.com address that forwards mail to everyone on the team. Just click the Groups button and select Create a new group.
By default, only members of the group can send messages, but you can change that here. Scroll down and click the checkbox for Also allow anyone on the Internet to post messages. Now customers can contact all of your sales staff via one address.
Customize Google Calendar Meeting Reminders
You can set Google Calendar to remind you about meetings in a handful of ways: e-mail, pop-up window, or SMS to your phone (including a plain, dumb handset). Here's how to configure the defaults to remind you to prepare well in advance and to ping you just before the meeting time.
Within your personal Google Apps account–not the administration dashboard–visit the calendar. Click Calendar settings and Notifications. You can click Add a reminder or remove to layer more or less. Try setting the first default to e-mail you a reminder 1 day in advance. Set another reminder (or two) to send you a text message just before meetings. (First, if necessary, click Set up your mobile phone to receive notifications.) Click Save.
Do More With Additional Apps
The e-mail, calendar, document, and other tools bundled with Google Apps can act as the cornerstone of your business operations. But additional, third-party apps can add more tools, even interfacing with your contacts, calendar, and other data. Among these extras are project management programs, CRM tools, time trackers, and more.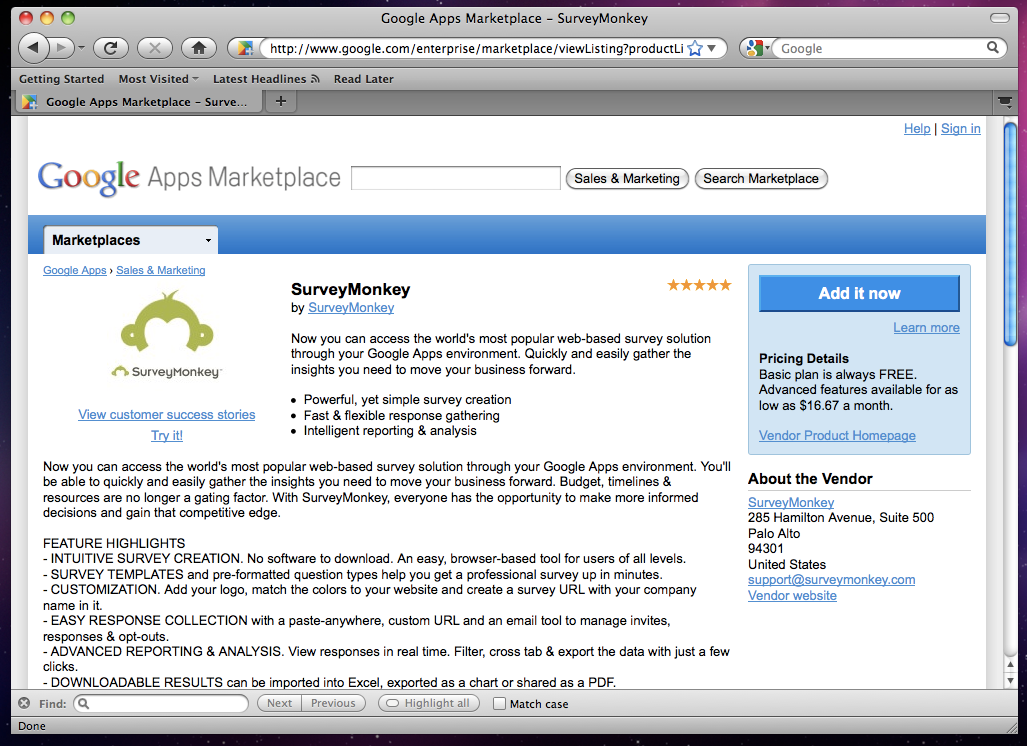 Visit the Google Apps Marketplace to find a mixture of free and paid add-ons. When you find something of interest, click Add it now, and follow the prompts. When you click the button to enable the app, it will be activated for all of your users, saving installation time versus traditional software.
Custom-Route Unknown Google Voice Callers
Google Voice permits people to reach you by phone wherever you may be. The free service assigns you a single phone number that rings all of your phones. You can have it ring your home number, the office, your cell phone, a temporary location, or anywhere.
Being reachable is great when you're working, but it's frustrating when you're away and you don't want strangers to call. You could temporarily shut off your mobile-number forwarding, but that would block people you want to be able to call. Instead, manage where calls ring depending on the caller, with calling groups.
First, scale back the default places that Google Voice will ring. Uncheck various lines in Settings, Voice Settings, Phones. Think of these preferences as your away mode, when you don't want to be reached by strangers. I recommend leaving just your office line enabled. Then click Groups, and edit those profiles. In the Friends group, for example, edit the default to ring all of your phones. Click Save. (Add people to the groups in the Contacts area.)
Now when your friends or members of other groups call, they'll be routed to certain lines. When strangers call, they'll reach you at your desk but not at home after-hours.