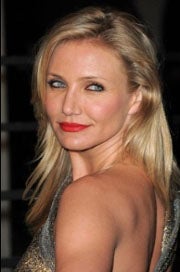 Cameron Diaz is one dirty, dirty girl.
Hang on — let me rephrase that: The dazzling Ms. D is actually quite lovely in person (in my daydreams, anyway; we've yet to meet face-to-face). But on the Internet, there's something about Cameron that might infect you with a virus.
Cameron Diaz, you see, tops 2010's list of the most dangerous celebrities to search for on the Web. Security company McAfee (yes, the same one just bought by Intel) compiles the list each year. And this go-round, the gang from Mc-A says Cameron isn't one of Google's angels.
Cameron Diaz: McAfee's Most Dangerous Celebrity
According to McAfee's study, searching for "Cameron Diaz" puts you at a 10 percent risk of landing on a site strewn with malware. Some of the worst searches include those for screen savers and other, ahem, downloads involving the actress's name.
Diaz isn't alone in the danger zone. Start the drumroll; here's the full list of McAfee's top 10 most dangerous celebs for 2010:
10. Anna Paquin
I can't imagine why anyone would possibly be searching for her.
9. Heidi Klum and Penelope Cruz
Thanks to a tie, number 9 gives you two for the price of one. Not that there's anything wrong with that.
8. Tom Cruise
That's right, Iceman: He is dangerous.
7. Jennifer Love Hewitt and Nicole Kidman
Another tie. And no, there aren't photos of the two of them together (not that I looked).
6. Adriana Lima
Another name I definitely did not just Google. Twice.
5. Brad Pitt
The Pitt-meister was number 1 on McAfee's list in 2008.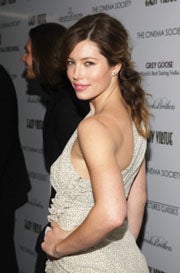 4. Gisele Bundchen
That's our third Victoria's Secret model, in case you're keeping count.
3. Jessica Biel
She was McAfee's most dangerous dudette last year. I heard Flavor Flav was named least dangerous on that same list, but I'm not sure I trust the source.
2. Julia Roberts
Googling "Julia Roberts and downloads" gives you a 20 percent chance of contracting something nasty, McAfee says.
1. Cameron Diaz
But you already knew that.
More of McAfee's Dangerous Celebrities
Some other interesting notes from McAfee's most dangerous celebs study:
• Tiger Woods came in at number 33 on the list of risk. Malware aside, of course, seeking him out may lead to other negative consequences.
• High-profile politicians ranked fairly low on this year's list. President Barack Obama came in at number 49, while Sarah Palin was number 50.
• Miley Cyrus may be getting more risqué with her wardrobe, but according to McAfee, her online threat level is dropping. Cyrus was number 7 last year; this year, she fell all the way to number 44.
• Bobcat Goldthwait was not mentioned anywhere in the report. The "leave Britney alone!" guy and that chick from Hanson were also both omitted. Just sayin'.
• Justin Bieber is as nonthreatening as you'd expect: Despite his online ubiquity, Mr. Moptop landed at number 46 on McAfee's list.
Hey, at least that's a relief. As long as we can still safely search for the Biebs, the bad guys haven't won yet.
JR Raphael is a PCWorld contributing editor and the co-founder of geek-humor site eSarcasm. You can find him on both Facebook and Twitter.