Despite Apple's talk about environmental friendliness, subscribing to iPad magazine apps now requires you to kill a tree.
People, a publication of Time, Inc., will be the first magazine whose iPad version is free to print subscribers, Fortune's Tech blog reports. Time, Sports Illustrated and Fortune will follow. But here's the catch: You still can't buy a magazine subscription for the iPad alone. The only way to avoid paying the full newsstand price is to subscribe to the print version, forcing you to deal with a pile of wasted paper that grows taller by the week.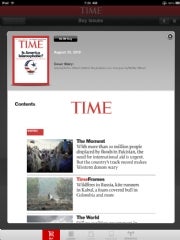 Multi-magazine reader apps, such as Zinio, do sell iPad subscriptions (disclosure: PCWorld sells a digital magazine through Zinio), but they don't allow for the custom-built experience that individual apps provide.
Reportedly, Apple prevents publishers from selling their own iPad subscription plans, but the reasoning isn't clear. Apple may want to keep money flowing through iTunes, or may not want to lose control of the magazine market or consumer data, according to MediaMemo. Those theories make sense given that Apple's technically not losing new revenue or user data on print subscribers. It's just a shame that the best workaround entails ordering a print subscription, and tossing the magazine in the recycle heap when it arrives.
That's not the only nuisance of Time Inc. magazine apps. As People's iPad FAQ points out, there's no automatic delivery of new issues. You get a notification when new issues are available, but you've still got to add each new magazine manually.
Despite those gripes, Time Inc. deserves credit for giving away the iPad version of its magazines to print subscribers. These apps tend to offer bonus content, such as photo galleries and video, and a greedier — I'd say more foolish — publisher would try to squeeze a few more nickels and dimes from its loyal customers. Now all we need is Apple to stop doing the same with the publishers who are only making the iPad stronger.