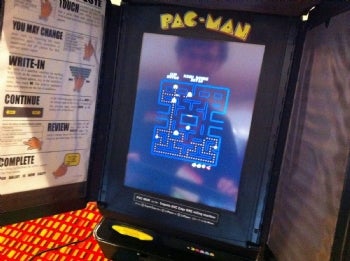 Remember all the controversy over electronic voting machines? Well, prepare to be paranoid once again. Researchers from the University of Michigan and Princeton University managed to hack a touchscreen direct-recording electronic (DRE) voting machine called the Sequoia AVC Edge to run Pac-Man, reminding me why I didn't trust electronic voting machines in the first place.
The researchers hacked the supposedly "secure" voting machine by reformatting the memory card in the machine to boot in DOS instead of the default embedded operating system. Apparently the entire process of reformatting and writing config.sys files took only three afternoons. Not only that, but the security seals that are suppose to keep people from tampering with the machine can apparently be left completely intact after a fun afternoon of hacking. Doesn't that make you feel confident about your next election? (Next thing you know the deceased will be voting — oh wait, that's happened before. Never mind.)
This isn't the first time voting machine security has been called in to question, and it probably won't be the last. Some states, such as Virginia, have already banned DREs; hopefully other states will begin to follow suit. If not, I'm putting Pac-Man on my ballot in 2012!
[University of Michigan via Switched and Engadget]
Like this? You may also enjoy…
Follow GeekTech on Twitter or Facebook , or subscribe to our RSS feed .
When you purchase through links in our articles, we may earn a small commission. This doesn't affect our editorial independence.