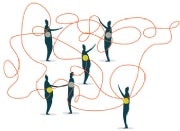 Does Facebook Places have what it takes to rule the location-sharing space? Foursquare founder Dennis Crowley doesn't think so. In a recent interview with London's Telegraph, Crowley called Places a "boring service" and not that "great or interesting."
You might expect this kind of commentary from Crowley since Places has the potential to put Foursquare, a popular location-sharing social network, out of business. But Crowley also pointed to an important distinction between Places and Foursquare. Places doesn't provide "incentives for users to keep coming back and telling their friends where they are," Crowley said.
Many location-based services have had to grapple with how to keep users coming back and sharing their location, overcoming the so-called "check-in fatigue." Incentives include gaming elements, virtual rewards, and other means to keep the location-sharing going.
Places, meanwhile, adheres to Facebook's traditional "Field of Dreams" philosophy: If you build it, they will come. No extra frills or gimmicks; just provide the ability to check into a venue and the users will take care of the rest.
But is that basic function sufficient to get Facebook's 500 million users regularly broadcasting their location to friends? Unlike sharing photos or even status updates, sharing your location can — at least in my experience — sometimes feel pointless. Sure, it's great to signal to your friends when you're at a party or an event, but what's so great about sharing your morning Starbucks run?
What do other location-sharing services offer to overcome check-in fatigue, and will Facebook Places end up suffering from this debilitating condition? Let's take a look.
Foursquare
Available mobile apps: iPhone, Android, Blackberry, Palm and Web app.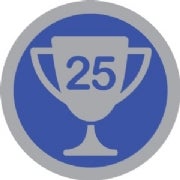 Foursquare is the location-sharing service that really started to popularize the concept of the check-in and sharing your location.
Foursquare operates a game in which you can win virtual badges such as the Explorer badge, awarded to users who have checked into 25 venues. The "Brooklyn 4 Life" badge goes to people who check into more than 25 locations in New York City's famous borough.
Foursquare also partners with small businesses to offer discounts and other promotional deals to Foursquare mayors, which are users who have the most check-ins for a particular venue. In fact, the pursuit of Foursquare mayorships has become so popular the frenzy was recently featured in The New York Times.
Finally, you can leave tips about a location to let other users know about house specialties, the level of service, ambiance and so on.
Gowalla
Available mobile apps: iPhone, Android, Blackberry, Palm and Web app.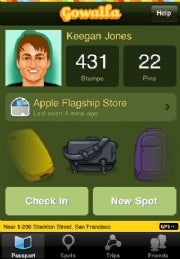 Similar to Foursquare, Gowalla is a location-based game that includes virtual geocaching elements.
You get a "pack" that holds virtual icons you pick up during travels. Available items include virtual beer bottles, model trains, food items, musical instruments, and so on. You get these items after checking in at a location, and if you are carrying too many items you have to drop something before you can pick up anything else.
Gowalla also has a passport that gets a virtual stamp when you check into a venue, and you get pins (similar to Foursquare badges) based on your check-ins.
With Gowalla you can also add photos to your check-ins and leave comments.
Whrrl
Available mobile apps: iPhone
Whrrl offers similar features to Foursquare and Gowalla. You check in, post photos and comments, and win points. You also join what are called societies in Whrrl, which give you access to user recommendations and special discounts for a particular venue. Societies can be built around specific locations or people who check-in to places at a particular time of day, such as the Night Owl society.
MyTown
Available mobile apps: iPhone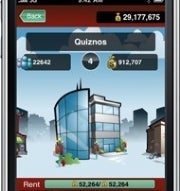 MyTown is basically a location-based Monopoly game where you build up your own virtual town based on your check-ins.
When you check into a location, you are awarded virtual currency that you can then use to purchase properties. MyTown properties are based on your real-world check-ins.
During the day, if people check into an establishment you own, then other users are required to pay you rent. You can also trade and sell properties just like in Monopoly.
Facebook Places
Available mobile apps: iPhone; other devices coming soon, but you can use the Web app at touch.facebook.com if your device supports HTML 5 and geolocation.
Unlike the other services, Facebook's location-sharing feature offers only the chance to share your location with your Facebook friends (or the whole world depending on your privacy settings). The only other thing Places offers is the ability to check in any of your friends that are with you, and add a status update.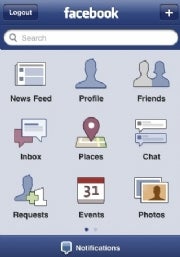 You can't add a photo or share a permanent tip, and there are also no incentives such as the ability to win badges, mayoral status, or promotional discounts. Places is all about sharing your location with your friends, and that's it.
Perhaps for Facebook, just offering the check-in feature will be enough. Facebook has done very well for itself so far by merely offering a blank slate for users to which users contribute content. So perhaps that will be enough to make Places a winner. Some critics also wonder if Places will just popularize the concept of location-sharing and the real benefit will go to other services like Foursquare and Gowalla, which reward such sharing.
In fact, that may already be happening. The day after Facebook launched Places, Foursquare received its largest number of one-day signups ever. However, that was also the same day the Times featured its piece on Foursquare mayors, so it's hard to know for sure what caused the influx of new Facebook users.
It will be interesting to see how popular Facebook Places becomes, and any future plans Facebook might have to help Places users get over the dreaded check-in fatigue.
Connect with Ian on Twitter (@ianpaul).