Imagine a social networking site geared specifically toward connecting college students with their on-campus academic and social communities. Sound familiar? Those are Facebook's roots — before the site ballooned into a worldwide phenomenon with half a billion registered users. They're also the roots of Scoop, a forthcoming mobile social app.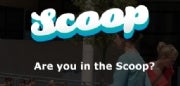 Google CEO Eric Schmidt's personal venture capital investment vehicle, TomorrowVentures, has invested in the developers of Scoop, Trumpet Technologies, according to Venture Beat. (By the way, Trumpet Technologies has an awesome slogan: "Stay Hungry. Stay Foolish." Its company mission is listed as "mobile local search," probably the most popular social network-related technology today.)
Trumpet Technologies put two college students in charge of developing the product: Nick Simmons and Michael Akilian. According to Simmons and Akilian, Scoop's ambition is to help people discover ad hoc campus events like impromptu basketball games and raging frat keggers. Simmons and Akilian want not only to list and promote events, they want to leverage users' social connections with a recommendation engine, actively engaging students in activities they'd enjoy.
"Imagine having a campus-wide conversation about what's going on. That information is not all in one place today," Simmons told Venture Beat.
The developers of Scoop realize they're cribbing from Facebook's playbook, and plan to even use that site to spread word about Scoop. "The existence of Facebook and its penetration through these campuses will be a great aid to distribution," Akilian said.
What's most interesting about Scoop is its distribution model. Though Scoop does have a Web site, it's uncertain as to how the service will use it, or if Scoop's main focus will be on a mobile app. Venture Beat notes that "Simmons says the choice of initial platform may change, at some point during the upcoming school year, at selected campuses."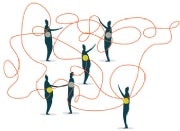 Smartphone adoption has seen a dramatic rise over the past few years. According to the latest Nielsen data, smartphones have taken 25 percent of the U.S. mobile market in Q1 2010, up from 23 percent in the last quarter. By the end of 2011, Nielsen predicts smartphones to overtake feature phones in the U.S. market. Leveraging the popularity of smartphones and mobile apps (also a booming pastime) is a savvy business strategy, as mobile communication is quickly becoming the wave of the future.
Quiet startups such as Scoop and Diaspora are sneaking onto the social scene with philosophy disparate from the Big Dogs: if they can attract people who are tired of privacy scuffles and commercialization, perhaps there is a chance of reigniting the Internet revolution Facebook once personified and breathe new life into social networking.