Remember when Princess Leia's holographic distress call blew you away? Nokia and Intel announced that they'll try to put similar 3D technology on mobile phones.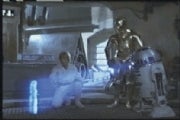 Over the next three years, the companies will perform research together at Finland's University of Oulu. While the primary goal is to develop 3D interfaces and virtual reality for existing display technology (more on that here), the more interesting possibility is holographic 3D for smartphones.
"Another potential area of research could look into technologies that allow displaying a 3D hologram of the person you are talking to on the phone," Intel's press statement says, "a capability only found in science fiction movies today."
Heikki Huomo, director of the university's Center for Internet Excellence, told Computerworld that developing fully-interactive holograms would be a "stretch," but researchers haven't ruled it out. Still, they're more likely to develop non-interactive images. Huomo says researchers "are trying to go for a truly immersive 3D hologram."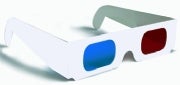 Now, I'll admit that holographic 3D isn't the most practical technology to work on right now. I have a hard time picturing scenarios where disembodied head would be more useful to look at than a video of a person in his or her current surroundings. That's probably why Intel and Nokia's research project is primarily interested in using existing display technology to create virtual worlds for Meego, the mobile operating system Intel and Nokia are building together.
But having a hologram in pocket form is right up there with hoverboards, flying cars and other fake future tech I'd like to see. May the Force be with Intel and Nokia over the next few years.