Dell on Tuesday dived into the highly competitive smartphone market, releasing the Aero in the U.S.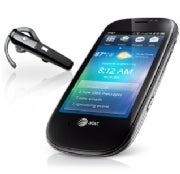 The Aero phone comes with a 3.5-inch touch screen and is available through Dell's website for US$99.99 with a two-year mobile contract with AT&T and for $299.99 without a contract.
Aero is the second mobile device announced by Dell with smartphone capabilities. On Aug. 12, Dell started shipping its Streak mobile device, which has a 5-inch screen. The Streak — termed a tablet by Dell — is a mobile Internet device with voice capabilities. But Dell considers the Aero to be its first wireless handset, the company said as it launched the smartphone.
Aero is based on Google's Android OS version 1.5, with heavily customized features, said Matthew Parretta, a Dell spokesperson.
Features added to the customized OS include handwriting recognition, Microsoft Exchange e-mail capabilities, the Quick Office mobile productivity application, a search manager, and the Facebook application. Users can also download applications from the Android market.
Parretta was not immediately certain if the phone would be upgraded to future versions of the Android OS. Android is 2.2 is the latest version of the OS, and is already available on handsets.
The device weighs about 3.67 ounces (104 grams), and comes with a 5-megapixel camera. The quad-band phone includes Wi-Fi and Bluetooth wireless capabilities. It is capable of communicating over HSDPA (High-Speed Downlink Packet Access) 3G wireless networks, and GSM (Global System for Mobile Communications) and GPRS .