Reader Dan loves his Asus netbook–but not its clock. Every time he turns the machine off, it seems to lose a couple hours. But the minutes, he notes, remain accurate. There are a number of reasons a computer can fail to keep good time. It could be the result of Windows failing to connect to its time-sync server, or it could be a dead CMOS battery.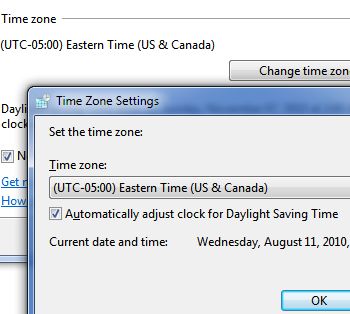 In this case, however, it's something much simpler: Dan's netbook is set to the wrong time zone. Readjusting the clock fixes the problem for his current session, but every time he reboots, the clock automatically readjusts itself based on the time zone setting.
Fortunately, this is a super-easy problem to fix:
Right-click the clock in the System Tray (bottom-right corner) and click Adjust date/time.
In the Date and Time box that appears, click Change time zone. Choose the proper time zone for your location.
Click OK, then click OK again.
That should do the trick, Dan!
Troubleshoot a Windows XP System That Won't Shut Down
Reader Todd says that every time he shuts down his Windows XP-powered desktop, it "hangs" on the shutdown screen, forcing him to hold down the power button until the machine actually turns off.
My Windows 7 system has the same problem, though it happens only sporadically, not every time. I've searched high and low for a solution, and there doesn't seem to be one–for me, at least. For you, I recommend perusing the Windows XP Shutdown & Restart Troubleshooting page, which is chock full of common shutdown-related issues and potential solutions. So many, in fact, that you'll understand why I don't have an easy answer: There are just too many variables, too many possibilities. It could be a hardware issue, a rogue app, a glitchy driver, and on and on. But this page is pretty comprehensive, so at the very least it should give you some remedies to try. Good luck!
Slow Wi-Fi? Try Bypassing It With an Ethernet Cable
Reader Brenda has noticed that the Wi-Fi at her local library has slowed considerably in recent months, and she's wondering what's causing it: "Is it our computers, bogged down with too much junk, or is it something to do with the library's system?"
Given that you cite multiple computers as exhibiting the same slow connectivity, chances are good it has something to do with the Wi-Fi.
For example, perhaps the router got moved to a location that's blocking some of the signal. (I've been in houses where something in the walls prevented signals from reaching outside a single room.)
It could also be that the router is failing, or that more library patrons are sharing a fixed amount of bandwidth (like more cars on a highway leading to slow-moving traffic). Without having more information, it can be tricky to troubleshoot a problem like this.
However, there's one step worth trying for anyone vexed by sluggish Wi-Fi: try a direct connection to the router. (Actually, that should be your second step; the first is to reset the modem and router.) This might not be possible at the public library, of course, but at least you could ask.
In other words, disable your PC's Wi-Fi, then connect it directly to the router using an Ethernet cable. Windows should automatically detect the new connection and get you online accordingly, though you may have to reboot.
Problem solved? If so, you know there's some kind of Wi-Fi issue to blame. If not, the culprit is probably a bad router, bad router settings, or the Internet connection itself (check with your service provider). Space doesn't permit me to address all these possibilities here, but at least you'll have narrowed down the problem.
If you've got a hassle that needs solving, send it my way. I can't promise a response, but I'll definitely read every e-mail I get–and do my best to address at least some of them in the PCWorld Hassle-Free PC blog. My 411: hasslefree@pcworld.com . You can also sign up to have the Hassle-Free PC newsletter e-mailed to you each week.