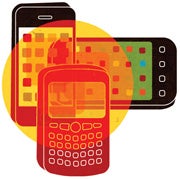 Wondering what to download for your smartphone? Start with this collection of the best productivity tools, utilities, and games. Here are our picks for the best multiplatform apps. To see our top choices for apps exclusive to Android, BlackBerry, or iPhone, read the other articles in this package.
Productivity Tools
Never forget: After you create text, photo, and audio notes with Evernote, you can synchronize them to your PC or the Web. From generating recipe ideas at the farmer's market to capturing lecture notes in class, Evernote is one of those universal apps that everybody should use. Free; Android, BlackBerry, iPhone, WebOS, Windows Mobile
Master your to-do lists: The Remember the Milk app packs a ton of features, such as the ability to set reminders, switch between incomplete and finished tasks, and sort by priority, due date, or task name. Free app, $25 annual service subscription after a 15-day trial; Android, BlackBerry (MilkSync), iPhone, Windows Mobile (MilkSync)
Dictate everything: In Jott Assistant you can use your voice to set reminders, capture notes and to-dos, send e-mail and text messages, and post to Web services. $4-per-month basic version, $13-per-month premium version; BlackBerry, iPhone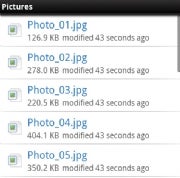 Store and sync: The well-designed Dropbox syncing and sharing service lets you share folders across all of your computers. The apps for Android and iPhone (a BlackBerry app is on the way) make sure that your smartphone hosts those folders too. Free; Android, iPhone
Scan business cards: CamCard scans business cards and adds the data to a new phone, Gmail, or Exchange contact. $10 for Android, $7 for iPhone
Sync to the cloud: ZumoDrive is a Web-based file storage, syncing, and sharing service that mounts just as a network drive does. Free; Android, iPhone, WebOS
Utilities
Speak a command: Vlingo replaces every instance where you have to type on your smartphone with voice commands. It covers your phone's basic messaging functions, voice calls, Facebook updates, and personal notes. On Android and BlackBerry, the app will even read your incoming messages to you. Free basic version, premium version varies in cost by platform; Android, BlackBerry, iPhone, Symbian
Call smarter: Google Voice gives you one phone number that you can use to make outgoing calls from–and forward incoming calls to–any phone. The app's Voicemail Inbox transcribes your voice messages so that you can preview them at a glance. Free; Android, BlackBerry, iPhone
Check your speed: The FCC-endorsed Ookla tool checks the upload and download speeds you're getting from your wireless network. Free; Android, iPhone
Retrieve a lost phone: With SmrtGuard you can remotely track–and lock–your smartphone if it goes missing. The Pro version lets you perform automatic wireless backup and restore. Free basic version, premium version is $5 per month after a 30-day trial; Android, BlackBerry
Organizers and Timesavers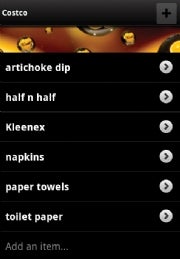 Write transferable grocery lists: OurGroceries allows you to set shopping lists on your phone and share them with other handsets, even if they don't run the same OS. Free; Android, BlackBerry, iPhone
Monitor vital data: Use Personal Assistant to track credit card transactions, check your bank account status, monitor frequent-flyer miles and itineraries, and get alerts when bills are due and itineraries change. Free basic version, $7 premium version; Android, BlackBerry, iPhone, Windows Mobile
Manage your passwords: The mobile version of LastPass syncs saved login data, secure notes, and saved forms with the desktop app, which runs on Chrome, Firefox, Internet Explorer, and Safari. $12 annual subscription after a 14-day trial; Android, BlackBerry, iPhone, Symbian, WebOS, Windows Mobile
Buy and sell faster: Search and browse Craigslist posts near your current GPS location, and bookmark relevant listings, with Craigsphone. The app also has tools for posting your own listings with photos and maps. Free; Android, iPhone
Run smarter: The RunKeeper app employs your smartphone's GPS radio to track the distance, time, pace, route, and elevation of your jogs. You can then sync your data to the RunKeeper Website and later view a history of your activity. The Pro version (for iPhone only) includes timing for interval training and audio cues, and it integrates with your music playlists. Free basic version, $10 premium version; Android, iPhone
News and Reference Apps
Listen to NPR: Even if you can't catch all of the news from NPR at home or in the car, you can still start your day with NPR News for your smartphone. You can listen to national news stories on demand, or allow the app to use your smartphone's GPS to pinpoint local content. Free; Android, iPhone
Check the weather: The location-aware WeatherBug app has detailed weather forecasts, radar maps, temperature maps, satellite views, and a cool sliding interface. You can configure it to appear as a home-screen widget, too. Free; Android, iPhone
Find facts fast: The Relief Central app puts the whole CIA World Fact Book into your smartphone. Free; Android, BlackBerry, iPhone, WebOS, Windows Mobile
Customize your news: You can tailor the AP Mobile app to meet your needs by adding local news to your feed and selecting specific areas of coverage. AP Mobile also nicely utilizes the push-notification system of the iPhone for breaking-news updates. Free; Android, BlackBerry, iPhone, Symbian, WebOS
Financial Tools
Get financial news: With breaking business stories and complete in-depth market coverage in a customizable format, CNNMoney provides real-time reporting of financial news and analysis, as well as data and charts. Free; BlackBerry, iPhone
Watch the markets: When you're on the go, consult Bloomberg Mobile for financial news, stock quotes, company descriptions, market leaders and laggers, price charts, market-trends analysis, customized lists of stocks, and more. Free; iPhone, WebOS
Watch your money: Balance your budget on the go with the Mint mobile companion to the popular Mint.com free personal-finance site. Among other features, Mint offers real-time monthly budgets (so you know how much you can spend while you're out and about) and account-activity alerts, all within an incredibly secure app. Free; Android, iPhone
Monitor markets: For continuous access to–and control over–your TD Ameritrade account, use iStockManager. You can get equity and option trading, streaming data, real-time balances and positions, news, and more on your mobile device. Free; Android, BlackBerry, iPhone
Convert currency: XE Currency can convert the currencies of more than 180 countries at up-to-the-minute rates. The app saves the last conversion just in case you may need to repeat it offline, too. Free; Android, BlackBerry, iPhone
Report expenses at once: Expensify takes some of the hassle out of creating expense reports by allowing you to report expenses as they happen while you're on the move. Free; Android, BlackBerry, iPhone, WebOS
Social Networking Apps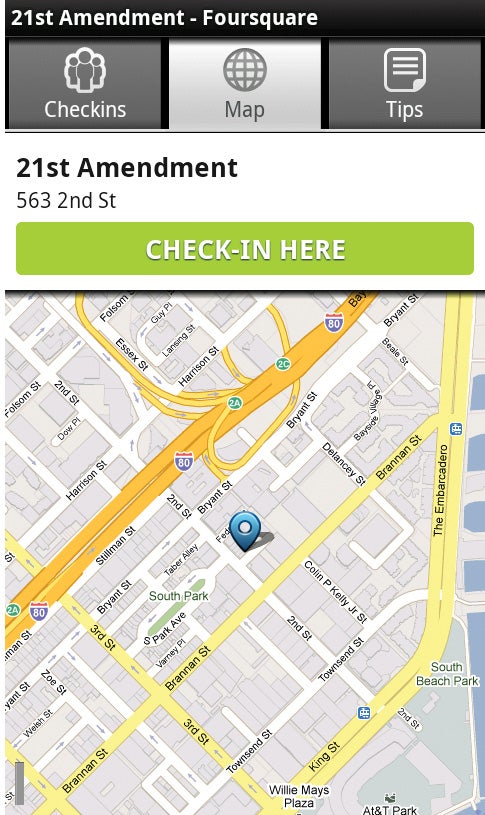 Share your location: On Foursquare you "check in" whenever you hit a restaurant, a coffee shop, a bar, or even a bus line, and then you can see if other Foursquare members are there, too. You can earn badges for your check-ins, as well as receive the prestigious title of "Mayor" if you check in to an establishment enough times. Free; Android, BlackBerry, iPhone, WebOS
Upload in a trice: Pixelpipe Post & Upload Pro lets you post status updates and upload photos or video to Facebook, Flickr, Picasa, Twitter, YouTube, and other services all at once. It's a great, time-saving way to reach all your social networks. Free; Android, iPhone, Symbian, WebOS
Network effectively: Using HootSuite, you can manage your Facebook and Twitter accounts within an elegant, clean user interface. HootSuite stands out from other social network managers for its extra features: You can schedule updates, set columns to monitor keywords and hash tags, and translate updates in other languages. Free basic version, $3 premium version; Android, iPhone
Chat with all of your friends: Via BeejiveIM you can chat simultaneously on AIM, Facebook, GoogleTalk, ICQ, Jabber, MSN, MySpace, and Yahoo. $10 for a single device, $15 for a transferable license; BlackBerry, iPhone
Share your photos easily: Use iTookThisOnMyPhone as a one-stop shop for uploading your pictures and video to photo sharing sites, including Facebook. All of your albums are hosted for free on the iTookThisOnMyPhone Website. Free; Android, BlackBerry, iPhone, Windows Mobile
Exchange media: One the most ingenious mobile apps we've seen, Bump lets two smartphone users physically bump their devices together to share contact data, media, and bookmarks, as well as to initiate social networking connections and chat sessions. The app employs each phone's GPS radio to detect the presence of the other phone, and then establishes a Web connection with the target device in order to share data. Free; Android, iPhone
Maps and Location Services
Map it: The Google Maps app is useful for finding businesses (you can save results into your Contacts) and getting directions (you can hand this function off to Navigation). Its public-transit directions are great when you're in a new city. Free; Android, BlackBerry, iPhone, Symbian, WebOS, Windows Mobile
Visit the world: Using the detailed satellite imagery displayed in Google Earth, you can explore the world. Assorted POIs (points of interest) are marked with links to photos, Wikipedia articles, and more. Free; Android, iPhone
Get maps free: You could shell out big bucks for a top-brand navigation app–or you could download the free MapQuest 4 Mobile, which delivers spoken turn-by-turn directions, automatic rerouting if you miss a turn, walking directions, and many other useful navigation features. Free; BlackBerry, iPhone
Enhance your world: The Layar Reality Browser is an AR (augmented reality) app that overlays information about such subjects as restaurants, public transit options, and apartment-search information on the view from your smartphone's camera. You can even see the tweets from people posting to Twitter within your camera's field of view. Free; Android, iPhone
Access travel plans: The WorldMate mobile app gives you full access to the travel plans you make using the WorldMate desktop program. You can see up-to-date information on flights, hotels, car rentals, and more, with clickable links. The premium version lets you get flight-delay information, plus suggestions for alternative flights. Free basic version, $12-per-month premium version; BlackBerry, iPhone, Symbian, Windows Mobile
Find your way: Turn your phone into a real-time navigation device with TeleNav. You can get turn-by-turn directions by voice and on screen, and you can locate, call, or navigate to rated and reviewed restaurants, hotels, ATMs, Wi-Fi hotspots, and more from a directory of over 10 million businesses. $10 after a 30-day trial; Android, BlackBerry, iPhone, Symbian, WebOS
Music Apps
Discover music: Tell Pandora your music preferences, and it streams tunes on your smartphone accordingly. You can stream music in the background (yes, even on the iPhone with iOS 4) while you do other stuff such as check e-mail or play games. Pandora's music algorithm isn't always spot-on, but the app is a nice alternative when you need a break from your own song collection. Free; Android, BlackBerry, iPhone, WebOS, Windows Mobile
Listen offline, too: Similar to Pandora, Slacker is a well-designed taste-based online radio service. We like it because it caches on an iPhone 4's memory, so you can listen to music while in flight or outside the cellular signal area. Free, though some features require a subscription; Android, BlackBerry, iPhone, WebOS, Windows Mobile
Name that tune: Want to identify that one song you keep hearing everywhere you go? Just open the Shazam app, hold your smartphone up to your radio's speaker, and–in a flash–it displays the name of the song and the artist. Free; Android, BlackBerry, iPhone, Symbian, Windows Mobile
Be a power listener: The perfect app for the hard-core music lover, MOG enables you to download any song or album to your phone for $10 a month. It's great for continued listening when you leave wireless coverage. MOG also one-ups Pandora by letting you create radio stations that play only what you specify, such as a station of Bruce Springsteen songs. App is free, service is $10 a month for all your devices; Android, iPhone
Rock your BlackBerry: Unlike MOG, Thumbplay allows BlackBerry users to get in on the on-demand music, with unlimited access to any artist or album. You can build playlists within the app, listen either online or offline, and sync existing music from your PC or Mac. $10 per month for full access; Android, BlackBerry, iPhone
Get your groove on: Find and stream an amazing variety of music, hassle-free, with Grooveshark. Play individual songs or whole albums, or create your own playlists. $3 per month; Android, BlackBerry, Symbian, WebOS
Entertainment Apps and Games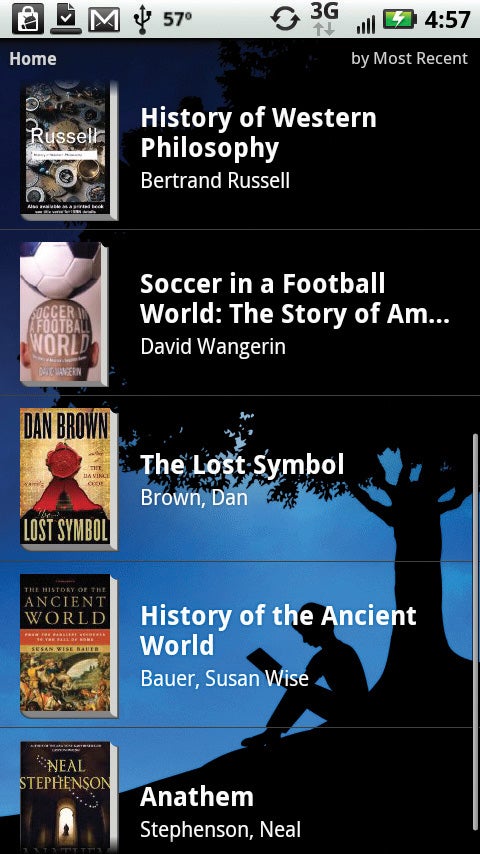 Preview books: With the Kindle mobile app, you can use your smartphone to preview books that you might like to buy later. Clean and customizable, the app permits you to preview the first chapter, as well as to add bookmarks, notes, and highlights. It's a must-have for any bibliophile. Free; Android, BlackBerry, iPhone
Watch cable anywhere: SlingPlayer Mobile streams the video from your cable box and DVR to your phone. The responsiveness of the app's video controls and the image quality of the video depend on the quality of your wireless connection, but it's worth the trouble. $30; Android, BlackBerry, iPhone, Symbian, WebOS, Windows Mobile
Crack up: For the most hard-hitting…ahem…fake journalism on the Web, look no further than the Onion News Network. You can grab the latest updates on Sasquatch, the MacBook Wheel, and the Girl Raised by Wolf Blitzer. The Onion News Network app keeps you connected by giving you access to the Onion archives and delivering all Onion videos to your smartphone. Free; Android, iPhone
Follow the league: In the MLB.com app, you can enjoy an audio stream of every regular and postseason baseball game, along with real-time box scores and stats, video highlights from the game shortly after they happen, and all the news from around Major League Baseball. $15; Android, BlackBerry, iPhone
Launch furious fowl: The clever Angry Birds game combines simple physics with sheer luck as you transport ticked-off birds to a pig fortress via slingshot to retrieve stolen eggs. $1 for iPhone, free plus $2 level packs for Symbian
Play an old-school game: In the highly addictive Doodle Jump, you use your phone's accelerometer to guide "Doodle the Doodler" up a sheet of graph paper while dodging black holes and blasting enemies. If you miss old Nintendo games, you'll love Doodle Jump. Varies in cost by platform; Android, BlackBerry, iPhone, Symbian
Note: When you purchase something after clicking links in our articles, we may earn a small commission. Read our affiliate link policy for more details.