At a Glance
Expert's Rating
Pros
Strong price-for-performance ratio
Beautiful chassis
Hot-swap bays make for quick storage changes
Cons
Poor internal-wiring job
Lacks USB 3.0
Our Verdict
Although the FX6803 doesn't offer the best scores in the category, this speedy performance PC boasts an impressive price point.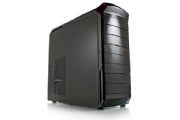 As has become a sort of tradition on the performance desktop charts, Gateway has brought another iteration of its FX-series desktops to the market, and–surprise–the machine is a fairly competent piece of hardware. We don't always expect to see mainstream vendors dishing out systems that beat boutique offerings in price and performance, but here we are. At $1499 (as of August 23, 2010), the Gateway FX6803 delivers a great mix of speed, design, and connectivity that's hampered by a few inconsequential issues–when it comes to the performance, that is.
Into the belly of this beast, Gateway stashes a 2.8GHz Intel Core i7-930 processor, a speedy–but not record-shattering–CPU. What is eye-opening, however, is the company's decision to install 9GB of DDR3 memory to accompany said processor; we just don't see that kind of a loadout at this price point, period. The system's single 1.5TB hard drive is just right for the category, but again rather generous.
Just how much does this wealth of memory affect the system's overall performance? On our WorldBench 6 suite of tests, the FX6803 cruised to an impressive score of 143. Competition in the category is fierce, but the FX6803's price-to-performance ratio is tough to beat. Its general performance virtually ties that of the $2700 Polywell Poly 890FX (145) and narrowly falls short of the results from the $1299 MicroExpress MicroFlex 88B (156).
The FX6803's nVidia GeForce GTX480 graphics card helped the machine produce 94 frames per second on our Unreal Tournament 3 benchmark (at 2650-by-2100-pixel resolution and high quality). Although you'd save $200 with the MicroFlex 88B, its ATI Radeon HD5770 graphics card generated a comparatively meager 68.5 fps.
For this model, Gateway sticks with the tried-and-true chassis it uses on most of the systems within the FX line of desktops. The system's two optical drives–one Blu-ray reader/DVD-burner combo drive and one DVD burner–are hidden behind flip-out panels, and a larger slide-down panel beautifully conceals the system's two front-facing hot-swap drive bays. Even the very top of the chassis comes with a flip-top panel for concealing cables (or resting drinks; your pick).
The FX6803's insides are less visually appealing, with a haphazard wiring job that makes internal maneuvering tricky. The system's one free 5.25-inch drive bay (of three available) uses screws; the one free hard-drive bay uses screws, too, and you'll need screws to install new devices into the free PCIe x16 slot or PCIe x4 slot. Sensing a theme?
To Gateway's credit, the FX6803 does come with an ample amount of connectivity for external devices; the company covers nearly every base, in fact. Two USB ports sit on the direct front of the chassis alongside a multiformat card reader. Two additional USB ports are on the very top of the FX6803, around the cable-concealing tray. On the rear, six more USB ports join two eSATA ports, one FireWire 400 port, one gigabit ethernet port, and integrated 7.1 surround sound. The system's graphics board presents two DVI ports, one DisplayPort connection, and one HDMI port. Our only gripe: Where's the USB 3.0?
Even though the keyboard Gateway serves up with the FX6803 is both wired and generic, the mouse–also wired–comes with two additional buttons on the side that you can toggle with your fingers. It's a small bonus, but still an important one, given the preponderance of boring keyboard and mice that typically ship with big-name-vendor systems. Throw a few more buttons on the keyboard for pulling up programs at the touch of a finger, Gateway, and we'll be delighted.
The Gateway FX6803 is a fairly fast performance PC for what you pay. You'll get better results from a costlier system, but you certainly won't suffer in opting for the FX6803 over competing inexpensive PCs. Its overall appeal is marred only by a few flaws that aren't deal-breakers by any stretch of the imagination.