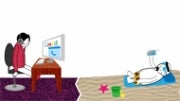 Google is integrating Google Voice into Gmail allowing you to make free telephone calls directly from the Gmail account Web page. Starting Wednesday, U.S. Gmail users will see a "Call Phone" button at the left of the Gmail inbox. Hitting this button brings up a dial-pad allowing you to initiate a call from your Gmail account to a landline or mobile phone number. The dial-pad also contains your recent call history under a tab above the browsers.
Google Voice provides you with a single phone number for all your phones, linking the Google phone number your various home, work, and mobile phone numbers. Using the service allows you to transfer and forward calls and can also offers advanced voicemail and voicemail notification services.

The Gmail embedded version of the Google Voice service will share user contacts with Gmail, so that phone numbers will now be stored with contacts. Because Gmail and Google Voice remembers every phone call you receive or place, looking up phone numbers becomes as easy as pulling up an e-mail address in Gmail. (Click image to zoom)
To entice people to use the new Gmail phone capabilities, Google says calls from the platform to landlines and cell phones in the U.S. and Canada are free–for at least the rest of the year. Google communication product manager Craig Walker said his company hopes to keep the free calling free by earning profit from international calls. This will make Gmail / Google Voice the cheapest way to call the US and Canada, Google says.
Google also announced new rates for international calls to both cell phones and landline numbers.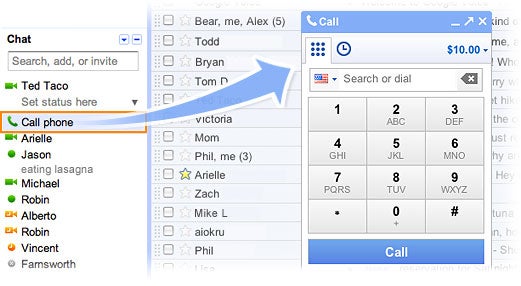 Receiving calls in Gmail / Google Voice has its advantages over receiving calls on a cell phone or landline too. For one thing, the service does not rely on cellular networks, so receiving calls through Gmail becomes attractive to people with poor cell coverage at home. Also, when a call is received you now have three options. You can take the call, ignore it and send it to voicemail, or you can screen the call by listening in on the message the caller is leaving, and deciding whether or not to "pick up." To receive calls using this VoIP service you must have a free Google Voice account. (Click image to zoom)
All of your incoming voice messages are displayed in a common inbox with Gmail. Google says "hundreds of millions of people" now us Gmail, but will not get more specific.