The Yahoo-Microsoft search alliance hit a major milestone Tuesday, completing Yahoo's switch to Bing-powered search results in North America. Will you notice?
After all, one of the reasons the U.S. Department of Justice approved Microsoft's takeover of Yahoo search was because the combined resources from both domains would speed up Bing's automated learning. With more data to draw upon, Bing and Yahoo have a better chance of finding what you're looking for, the DOJ reasoned.
Still, the presence of Bing in Yahoo search results is subtle, with only a tiny "Powered by Bing" at the bottom of search pages. Moreover, once you remove the branding and surrounding features of search engines, the results themselves are fairly similar, and I doubt many people could distinguish one from the other.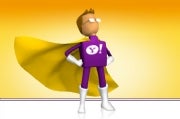 If you don't believe me, try for yourself with Blind Search. This little taste test, created last year by Michael Kordahi (a Microsoft employee who says this was an independent project), simultaneously presents search results from Google, Yahoo and Bing, but doesn't tell you which is which is your favorite. (I'm not sure why the results are still different for Yahoo and Bing; maybe Blind Search uses an API that hasn't switched over yet.)
Last year, Kordahi said 41 percent of people preferred Google's results, 31 percent chose Bing, and 21 percent liked Yahoo, but he said many people commented on how the results were too alike to choose from and asked for a way to vote indifference. I suppose Bing's slight advantage over Yahoo bodes well for Microsoft and Yahoo's partnership.
But it's no secret that search these days is more about features and aesthetics than the actual search results. Google and Bing are locked in a feature war that's been going on since last year, and all three search engines have relative strengths and weaknesses. While Google dominates the search market, serving roughly 66 percent of all results, it's only slightly ahead of Bing and Yahoo in the American Customer Satisfaction Index's most recent study.
Bing's back-end is mostly a business thing. It lets Yahoo focus on being a content portal, while giving Microsoft a bigger piece of the search engine pie. If anything, that change in focus will have the most impact on users, not a slight difference in the 10 blue links.