Constantly checking to see if a favorite Web site (or 12) has been updated is a great way to waste time at work, but we at PCWorld want you to be productive. Website-Watcher (30 Euros for Basic version), by Aignesberger Software, does this for you, freeing you to get back to doing those TPS reports.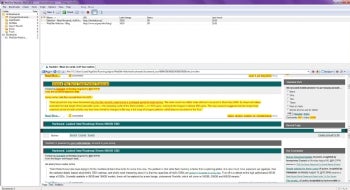 Of course, a program that did little more than go "ping" whenever a Web site changed would be of minimal use and certainly not worth buying. Fortunately, Website-Watcher does more than that. It will download the page to your local hard drive, for later browsing, and will also save the prior version, highlighting changes. While many times it is obvious what has changed (a new entry in a blog, a new post in forum), this feature can also be useful for seeing edits quietly made to other text. Fans of George Orwell might enjoy tracking a developing news story, to pinpoint the exact moment when the war with Eurasia became the war with Eastasia, or more practically, to see edits and updates which might be important but which are easy to miss in a wall of text.
Website-Watcher will track only two versions of a page–the current one and the last one downloaded–but it integrates easily with another Aignesberger product, Local Website Archive, allowing you to save multiple versions of a page with a right-click. This also has value in a corporate environment, as it makes it easy to see if corporate pages are being changed and to instantly highlight what's been changed.
Website-Watcher comes in three versions. Basic, reviewed here, lacks one very important feature: automatic checking. You must manually click the "Check" button to get it to update. Other, more expensive, versions of the software will scan your selected Web sites for changes at specified intervals. The Basic version is for home use only, so if you're using Website-Watcher at work, you will need to buy one of the more expensive versions (starting at 50 Euros) anyway.
Thanks to some fairly advanced filtering capacity, Website-Watcher can be set to download information only when important text has changed. Unfortunately, it seems to be entirely text-based. One use to which I'd like to put this software is to determine when a new webcomic has been posted, but I cannot filter just a changed image. (Granted, the text often changes on the main page as well, but that's not a given.) Each individual item watched has a robust set of properties and options associated with it, allowing for a great deal of user customization.
At 30 Euros for the Basic version, it's very tough to say whether I'd recommend Website-Watcher . Although even the Basic version is useful, the lack of an auto-check feature is a deal-killer for me. Without the ability to check in the background, the utility of Website-Watcher drops a great deal. I'd heartily recommend the Basic version if it were free without that feature, but not at the current price.