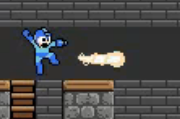 Well, it's not another fighting game, but we really hope that this comes to a game system near us someday. User SonicZH of the fan site Capcom-Unity created an entertaining (read: awesome) 8-bit mashup game between two of Capcom's most famous series–Megaman and Street Fighter–in the cleverly titled Megaman vs. Street Fighter.
What originally started a fan art contest on Capcom Unity's site back in July has now turned into something that has received a lot of acclaim in the gaming world and has the potential to be even more awesome if we can get our hands on it. SonicZH sent out the first teaser back in July, showing the world a video of a run through one of the levels. Video after the jump.
As seen in the above video, the gameplay of the Megaman vs. Street Fighter concept involves the same side-scrolling action typical of Megaman games, fully detailed and matched to their 8-bit glory. It's really impressive to say the least. Most impressive is that SonicZH programmed that entire thing by himself!
It's said that a complete game is in the works, and whether or not this hits Wiiware (see: Cave Story) We'll definitely be looking for the download somewhere as soon as its available.
Here's another video in case the first one wasn't enough! Enjoy!
[via Capcom-Unity]
Like this? You may also enjoy…
Follow GeekTech on Twitter or Facebook , or subscribe to our RSS feed .