The Froyo is a-flowin' once again this week, with new updates on the way to Verizon's Motorola Droid and a possible push in the works for the Droid Incredible, too.
First, the concrete info: Verizon Wireless has confirmed it's started sending the second part of its Android 2.2 upgrade to the original Droid device. The update, build FRG22D, officially enables support for Flash. Once it's installed, you'll be able to find Adobe's Flash Player 10.1 in the Android Market and download it onto your phone.
Verizon says the Droid's new Froyo build also includes "updated software changes" that'll "provide improved security," though no details have been provided about what exactly those changes entail.
The Motorola Droid's new software, like the initial Froyo update sent to the device earlier this month, will likely be rolled out in waves —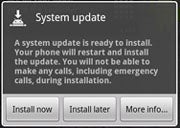 meaning only a subset of users will receive it at a time. It could take several days or even a few weeks for the build to reach everyone. You'll know when it hits your device, as a notification will pop up on your screen informing you the update's ready to install. You'll need at least a 40 percent charge — or a 20 percent charge, if your phone is plugged in — in order to begin the process.
Froyo and the Droid Incredible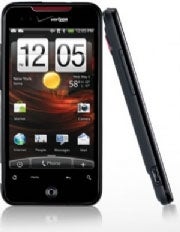 All right, so what about the HTC Droid Incredible? The last firm info we heard was that the handset would receive Froyo sometime "in the second half of this year." Officially, that's still the only information available.
That said, the gang at Android Central has published an alleged screenshot from Verizon's computer system that says the Incredible's Android 2.2 rollout will begin this Friday, August 27. Another Android blog, Droid-Life.com, has a different screenshot showing the same date.
As of the time of this publication, Verizon is not confirming the August 27 scuttlebutt. The company has, however, posted a Droid Incredible software update page that provides general information about the upgrade and what it will involve. According to documents on that page, the Incredible's Froyo upgrade — in addition to the standard Android 2.2 benefits — will include new "mail stream" and text messaging widgets, improved signal display, and improvements to the phone's contact management system.
I wouldn't put Friday on your calendar just yet, though: Remember, the date is not confirmed, and we've seen plenty of false alarms from blog-published rumors before. With the Droid Incredible alone, previous reports have claimed the Froyo upgrade would begin by the "first part of August" and, more specifically, on August 18. Until Verizon announces anything, take the date with an optimistic grain of salt.
Also, an important warning: If you're running HelixLauncher on your phone, you'll want to read this well before Froyo arrives. It'll save you from a serious headache.
The Rest of the Android Pack
Other Android phones should be making their way to the front of the Froyo line soon. The Droid X, for example, is scheduled to get its Android upgrade "by early September," according to information posted at Motorola's official support site. Samsung has said its entire line of Galaxy S handsets will taste Froyo before the year's end, and Dell has confirmed its Streak tablet-not-phone will be bumped to 2.2 prior to New Year's 2011. (No word yet on the embarrassingly outdated Aero that debuted earlier this week.)
For everyone else, it's a mixed story. Some phones have been promised an upgrade but assigned no definite time frame, while others are still completely up in the air. A few devices are confirmed to be out of luck altogether.
You can keep tabs of the Froyo upgrade status for any Android device at my Android 2.2 upgrade list. It's regularly updated as new information becomes available.
JR Raphael is a PCWorld contributing editor and the author of the Android Power blog. You can find him on both Facebook and Twitter.