3PAR has accepted an increased acquisition offer from Dell of US$27 per share, matching Hewlett-Packard's earlier raised bid. 3PAR's board has updated its earlier merger agreement with Dell accordingly, the companies said Friday.
Dell and HP are vying for the hand of the virtualized storage vendor with a view to extending their own data-center product lineups. Dell has recently acquired storage optimization provider Ocarina Networks and server provisioning vendor Scalent.
The competition for 3PAR has been intense. On Aug. 16, Dell offered to buy 3PAR for around $1.15 billion. 3PAR accepted, but HP topped the offer a week later with a bid of $1.6 billion, or $24 per share, revealing in the process that it had also been in earlier merger discussions with 3PAR before Dell made its move.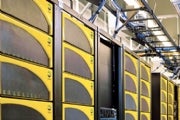 Dell took three days to react, topping HP's offer by just $0.30 per share.
3PAR accepted Dell's improved bid, but on Thursday HP raised again, this time to $27 per share.
Overnight, Dell matched that bid, and 3PAR announced Friday morning that its board recommends shareholders accept the revised offer.
The latest increase in price does not affect the timing of the offer, 3PAR said. Unless extended, the offer will expire at midnight on Sept. 20. The termination fee too remains unchanged: if 3PAR accepts a superior offer from another company, it must pay Dell at $72 million.
Storage on Demand
3PAR is known for its "thin provisioning" technology, which enables storage resources to be delivered on demand, in contrast to traditional "fat provisioning," which dedicates an excess amount of storage to an application in anticipation of future growth. Thin provisioning is much more efficient than the latter approach, according to proponents.
Both HP and Dell see 3PAR's products as a key component of their strategies for building cloud computing environments.
Analysts attribute the bidding war over 3PAR to the fact that there are few alternative, comparable acquisition targets.
Both Dell and HP have said their broader footprints will allow them to scale up the 3PAR business.
But in reality, HP would be in a better position than Dell, as it already has a similar product via a partnership with Hitachi, Enterprise Strategy Group analyst Steve Duplessie said in a blog post this week.
"They have a ton of Hitachi platform customers that are ready-made for a strategic swap out to 3PAR attack plan over the next few years. Dell will have to start from scratch," he wrote.
HP did not immediately respond to a request for comment Friday.