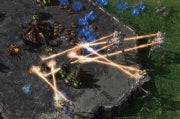 Problem-solving skills used in one of — if not the most — popular real-time strategy games of all time are not unlike those used in the 21st Century real world. At least that is the song that the University of Florida is singing. The school, located in Gainesville, Florida, is offering a two-credit honors couse titled, "21st century Skills in Starcaft." The eight-week class "does not teach about Starcraft," but combines weekly gameplay, analysis of recorded matches and "synthesis of real/game-world concepts," to develop workplace skills. Part of the course description for the interdisciplinary honors course reads:
"With society becoming increasingly technology-based and fast-paced, it is important for professionals to be highly proficient in skills such as critical thinking, problem solving, resource management, and adaptive decision making. These skills are fundamental in Starcraft and therefore make the game a highly effective environment for students to analyze and take action in complex situations." The course is open to twenty students that have access to a Mac or PC, Internet access outside the school labs and experience playing the popular game. (No noobs allowed.)
The class is taught by Nathaniel Poling, a doctoral student in the school's department of education. He recently told the MIT Technology Review: "In StarCraft you're managing a lot of different units and groups of different capacities. It's not a stretch to think of that in the business world or in the work of a healthcare administrator."
In other words, don't use a Dragoon to do the job of a Zealot.
Let's hope the curriculum includes other important tidbits, such as the tip that playing the game for 50 hours with little sleep or food can be bad for your health. This isn't Blizzard Entertainment's first foray into the world of higher education. Last year, the University of California at Berkeley started offering a course in competitive Starcraft playing.