Foursquare hit the three million user mark over the weekend, less than two months after the location-based service passed the two million users mark in July. This success comes despite predictions Foursquare would be crushed by Facebook's recently launched location-sharing feature called Places. But Foursquare's recent user milestone suggests Places may actually be helping Foursquare's growth by popularizing the concept of checking-in and sharing your location. Foursquare's three-million-user milestone was first reported by TechCrunch which derived the number based on its own research. Foursquare has not made any formal announcement of its traffic.
Facebook Places: Friend or Foe?
It took Foursquare a little longer than one year to reach one million users after the service launched in March 2009, and then another three months to hit two million users.
Now, with reportedly over three million users, the location-based service is signing up an average of 18,000 new users every day, Foursquare Founder Dennis Crowley recently told the Los Angeles Times.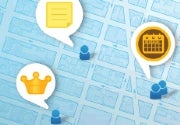 But questions remain about whether Foursquare can survive against Facebook Places and its potential 500 million users. For the moment, however, it appears that Places may actually help smaller services thrive. Instead of shutting out competitors, Places is serving as a platform where other location-based services can integrate their functionality with Facebook. Foursquare competitor, Gowalla, for example, plans to allow users to import their check-ins and virtual goods into Places.
Facebook's popularity, combined with the current attention being paid to Places, may also be contributing to Foursquare's recent success. The day after Facebook launched Places, for example, Foursquare said it received the largest number of one-day sign-ups ever.
Will they check-in?
Foursquare may be going strong right now, but there are also questions about how many users out there are willing to broadcast their location to others in real time. A recent report by The New York Times quoted a Forrester Research study that said only 1 percent of Americans use location-based services every week, and only 4 percent have even tried location-sharing. So while Foursquare may be growing now, it's unclear whether there will be enough users to sustain its popularity over the long term.
Then again, it took Twitter two years to reach two million users and four years later the microblog hit 100 million users, according to TechCrunch. Foursquare, at least for the moment, is reportedly growing at twice that rate.
Connect with Ian on Twitter (@ianpaul).