At a Glance
Expert's Rating
Pros
Good price
Extremely thin and attractive
Cons
Touchpad is not very responsive
Keyboard is a dust magnet
Our Verdict
This laptop is very stylish, especially for the price, but it sacrifices performance for sexiness.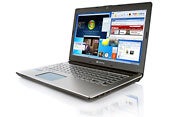 The Gateway ID49C07u is a slim, eye-catching 14-inch laptop with a pretty good price–just under $580 at the time of this review. The ID49C07u (a Best Buy exclusive model) has a 2.28GHz Intel Core i3 processor, 4GB of memory, a 500GB hard drive, a DVD-rewritable drive, a 14-inch screen, a built-in Webcam and microphone, and 802.11 b/g/n Wi-Fi. It runs Windows 7 Home Premium.
Features aside, the ID49C07u is loaded with style. This sexy budget laptop is thin (at 1 inch thick), light (at 5.1 pounds), and gorgeous. The cover has a silver matte finish with a brushed metal Gateway logo on the right-hand side, and the interior (keyboard and palm rest) features the same silver matte finish. The bezel around the screen and the bottom of the computer are sparkly matte black.
A few helpful dedicated buttons occupy the space above the keyboard. On the far left are two silver buttons: a programmable launch button and a Wi-Fi on/off switch. Toward the right are a number of dedicated touch buttons for playing/pausing, stopping, fast-forwarding, rewinding, and ejecting media.
Despite being a low-cost machine, the ID49C07u comes with an adequate number of ports: four USB, one HDMI-out, one VGA-out, and one ethernet 10/100/1000 (gigabit). There are also headphone and microphone jacks, plus a multipurpose memory card reader located in the front of the computer. Regrettably, three of the four USB ports are squashed up next to each other on the right side of the computer, which limits their usefulness.
The 14-inch ultrabright LED-backlit screen has a native resolution of 1366 by 768 pixels. Pictures look crisp, clear, and colorful, and viewing angles are decent–a couple of people sitting side by side can easily see the screen. At the brightest setting, the colors start to look a bit faded (think pastel), but on the positive side, that does make the screen fairly easy to view in bright sunlight.
They keyboard exhibits a superb sense of style, but at some expense to usability. In place of standard flat keys or Chiclet-type keys, this keyboard adopts what Gateway calls a "fine tip" design: The matte silver keys are big, flat, and nicely spaced, and they seem to float above the chassis. The effect is aesthetically appealing, and it definitely makes the ID49C07u look more expensive than it is.However, the keys are also a bit slippery to the touch; and because the keys "float," the keyboard is a perfect landscape for dust, crumbs, and everything else that gets lost between the keys.
Though the keyboard was a little too springy for my taste, it supported lengthy typing sessions reasonably well. It's also big enough to fit a few dedicated buttons on the right-hand side, including volume controls (up, down, and mute), and a "social networking" key; pressing the social networking key brings up a social network app for logging in to Facebook, YouTube, and Twitter–perfect for the always-connected student.
The trackpad is a smooth, solid piece of plastic with two simple lines that indicate where the buttons are. The entire pad is clickable (similar to MacBook trackpads), and when you move your finger into the "button zone" (below the lines), the entire pad lights up with a faint bluish glow. Unfortunately, it's one of the most unusable trackpads I've ever come across. The smooth plastic, though soft and slick, isn't at all conducive to making gestures (and you can basically forget about multitouch). It barely registers gestures unless your entire finger is flat on the pad. And even though the entire pad is clickable, the clicks won't register unless your finger is in the button zone (and the pad is lighting up). Luckily, the "tap to click" feature works fairly well.
Video playback isn't bad–a high-definition video on Hulu streamed seamlessly as long as I didn't run any other programs. But the i3 processor started to show its seams when I began multitasking–when I had more than three programs open, the playback exhibited noticeable stuttering.
The speakers, located above the keyboard, are a bit of a disappointment. The system boasts Dolby Home Theater technology, and the audio quality was good–but very quiet.
The ID49C07u's software is pretty standard–a 60-day trial of Microsoft Office, a 30-day trial of Symantec Norton Antivirus, CyberLink PowerDVD 9, and a few Gateway applications (Gateway Updater, Glowing Touchpad, and Gateway Recovery Management). I do wish that Best Buy would stop packaging its software installer in every single computer it sells.
What the Gateway ID49C07u lacks in performance it definitely makes up for with style. This is the best-looking budget laptop I've seen, though some of its most prominent flaws are directly traceable to aesthetic choices.
For other notebook PC options, see our ranked charts of "Top Ultraportable Laptops" and "Top All-Purpose Laptops."
Note: When you purchase something after clicking links in our articles, we may earn a small commission. Read our affiliate link policy for more details.