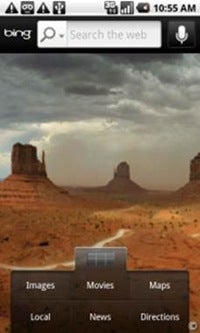 Verizon customers with Android phones looking for an alternative to Google can now turn to Bing. In an exclusive deal announced Monday between Verizon and Microsoft, a Bing search app will be offered free from the Big V's Wireless Android Marketplace to users of mobiles running Google's operating system. What's more, the app will be pre-installed on all new Android phones sold by Verizon.
Bing's Android incarnation is similar to its computer counterpart. It opens up with an "image of the day." You can gaze at up to seven days of past images with a finger flick. In addition, as with Google mobile search, you can perform voice searches by having the phone turn your speech into text.
Microsoft has a Bing iPhone app. But it's unclear how this "exclusive" Verizon-only Bing mobile app will differ – if at all – from what's available on the iPhone.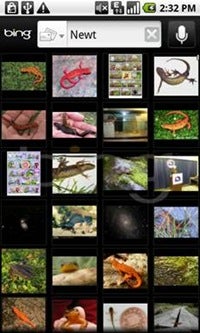 Maps can be searched with the app, too. What's more, Bing can use an Android phone's built-in GPS to search for directions for you and obtain traffic information. A "favorites" feature lets you store searches and maps for later reference. And there's an instant answers feature for obtaining information about local businesses–where's the nearest ice cream shop?, for example–or checking on the status of an airline flight.
No mention was made by Microsoft of offering the app to other carriers offering Android phones, but it's hard to believe that Verizon would agree to pre-install the app on new mobiles without getting something in return–such as exclusivity–from Microsoft.