Google displayed the power of HTML5 this Monday, thanks to a unique music video collaboration with indie-rock band Arcade Fire.
The unusual partnership, which goes under the project name of The Wilderness Downtown, was directed by Chris Milk and offers site visitors an undoubtedly new browsing experience. The project is made of an impressive mashup of Arcade Fire's video for "We Used to Wait," along with inventive use of Google's mapping service.
When you visit the site you will be instructed to enter the address of the home you grew up in, and after a few minutes–once the background technology loads and does its magic–the experience will begin.
It starts by showing footage from the band's music video, and before you know it multiple windows begin to dance around on your screen to the beat, adding other visuals as time goes on. However, the most impressive aspect of the whole HTML5 demo comes a little later when Google Maps comes into play. The mapping integration shows imagery of your chosen address from both satellite and street-view levels, with trees growing around your neighborhood. At one point you will also get the chance to interact by writing a message (see below) which you can later share.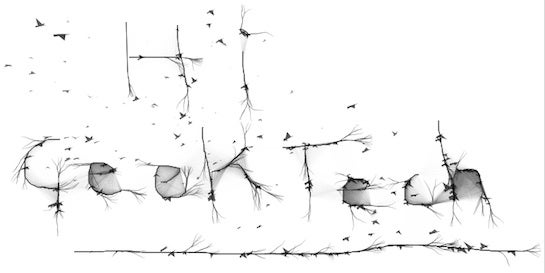 Sadly for me the home I grew up in (near Liverpool in the U.K.) has since been destroyed, but seeing virtual trees grow on the now unused land was nice all the same. Personal experiences aside, this is one impressive demonstration of the power of HTML5, and offers an interesting insight as to how the Web's interactive experiences could change–no doubt at the loss of Adobe's Flash.
You can experience The Wilderness Downtown for yourself, and although it should work in any HTML5-friendly browser, the Website naturally recommends viewing it via Google's own Chrome browser.
[via MacLife]
Like this? You may also enjoy…
Follow Chris Brandrick and GeekTech on Twitter.