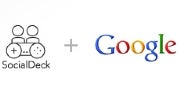 Google shows no signs of stopping its social networking start-up shopping spree–it acquired social gaming service SocialDeck on Monday.
The acquisition was announced Monday via the SocialDeck blog.
SocialDeck is a social gaming company that makes games for various mobile platforms (including Blackberry and iPhone) that are playable across multiple devices and social networks. For example, you can play a game on your iPhone and then switch over to Facebook on your computer and play with the same profile.
Some of SocialDeck's games include "Shake & Spell," "Pet Hero MD," and "Color Connect."
According to the Wall Street Journal, Google has been in talks with popular game developers to offer their products on "a new service it is building" (courtesy of WSJ's "people familiar with the matter"). Perhaps the acquisition of SocialDeck shows the direction in which Google wants to go with its rumored new gaming service–games that work seamlessly across multiple platforms and devices, that is. The WSJ reports that the companies in talks include Playdom Inc., EA's Playfish, and Zynga.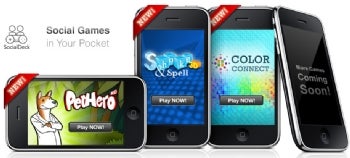 Google acquired Angstro, a company known for its Knx.to product (a centralized address book that combines a user's connections from social networks), just a few days prior to this latest acquisition. Angstro was the fourth company acquired by Google in August (SocialDeck was the fifth)–it previously acquired social games developer Slide, virtual currency maker Jambool, and visual shopping engine Like.com.
The real question is this: is Google about to roll out some funky new life-changing social network, or does it just want to own everything that's tangentially related to social networks?