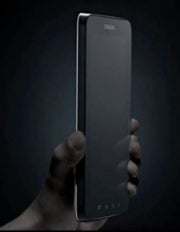 Samsung will reportedly partner with Verizon Wireless on its recently announced Android-based Galaxy Tab tablet. The partnership, reported by BoyGeniusReport, is based on an alleged screenshot of Verizon's internal systems, which list the Samsung tablet.
The official announcement of the 7-inch tablet is slated for September 2. Samsung has only disclosed only a few details about the Galaxy Tab so far. However, in a bid to drum up anticipation for iPad 'killer', Samsung released earlier this month a teaser video of the Galaxy Tab tablet. The video doesn't reveal much, except the 7-inch screen size, and the fact that it will have a rather sizeable camera on the back, something missing from Apple's hit-selling tablet.
According to BoyGeniusReport, Verizon will be the carrier of choice for Samsung's Android tablet.
Specifications Unknown
Mimicking Apple, Samsung kept most of the details of the Galaxy Tab under wraps so far. However, this left plenty of room for speculation and rumors. Chinese site iFanr had some hands-on time (with photos) with a Tab prototype earlier this month, and let slip that the tablet will have a 1024 by 600 pixels AMOLED screen, 3.2-megapixel camera, and a front-facing camera for video calls.
Earlier reports also indicate the Samsung Galaxy Tab will run on a 1GHz processor (like the Samsung Galaxy S series smartphones, together with GPS, WiFi, and Bluetooth connectivity.
As for software, the Galaxy Tab will come with Android 2.2, together with support for Adobe Flash. Support for SWYPE typing technology would be embedded with the software keyboard, but there's no word whether Samsung's TouchWiz Android UI modifications will allow for Android Market functionality.
Pricing for the Samsung tablet is also on the unknown list. If Verizon indeed proves to be the exclusive carrier for the Tab, then there is the possibility of subsidized prices, probably above the usual $199 (with a two-year contract) high-end smartphones sell for right now.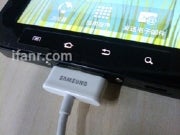 Imitation As Flattery
From the photos at iFanr, Samsung flattered Apple's connection cable for iPads and iPhones, with its own white version of the 30-pin connector.
The browser interface on the Tab looks strikingly similar to Apple's Mobile Safari for iOS. Samsung's TouchWiz customized Android UI, as seen on Galaxy smartphones, also imitates Apple's iOS look with square icons in a grid.
Samsung is set to unveil the Galaxy Tab tablet on September 2 at a show in Berlin, Germany.
Follow PCWorld (@pcworld) and Daniel Ionescu (@danielionescu) on Twitter.