MySpace has surrendered to the power of Facebook, and users can now send their shared content on MySpace out to Facebook (and Twitter) with just one click. The functionality allows you to push photos, status updates, links and videos out to a Facebook profile or Page, and also Twitter. The move is not surprising considering MySpace's dwindling popularity, and Facebook's increasing dominance over the social aspects of the Web with its growing user base of over 500 million.
Despite MySpace's declining popularity, however, one advantage it had were the specially designed MySpace pages for musicians and celebrities. But with the increasing popularity of Facebook Pages, MySpace may have been feeling the pressure to finally tap into Facebook. With Facebook-MySpace integration, musicians, celebrities and regular users can still maintain their identities on MySpace, but reap the added advantage of sending content to Facebook as well.
How MySpace-Facebook integration works

To get started with MySpace integration click on the settings icon to the left of the share button on your MySpace homepage. A drop-down menu will show you checkboxes for Twitter and Facebook. Just select the services you want to integrate with MySpace, and then you must authorize MySpace to have access to your Facebook or Twitter profiles.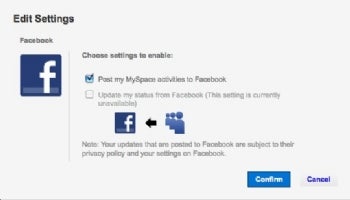 Once that's done, a pop-up on MySpace appears to verify your settings, and then you're ready to go. As you can see in the above image MySpace may be rolling out the ability to update your MySpace status from Facebook in the near future. But that functionality is not ready yet. You can, however, send updates from Twitter to MySpace and vice versa.
MySpace integration with Facebook (and Twitter) is pretty straightforward. You just share whatever you want in MySpace's Facebook-like update box, and your content will be sent to the social networks you authorized. Any shared content sent to Facebook from MySpace (such as photos or videos) appears as a status update on your Facebook profile with a link back to MySpace. You can share almost any shared content from MySpace you want with the exception of MySpace's mood updates.
Once you authorize cross posting with Twitter and Facebook, these options will be enabled by default. So if you happen to be posting something that you don't want to be shared across multiple platforms, make sure you uncheck Facebook and Twitter integration in the settings panel.
MySpace's new functionality is part of yet another renewed effort by MySpace to maintain relevance in an increasingly Facebook-dominated world. The second-most popular social network in the U.S. recently refreshed its look that appears to borrow heavily from Facebook including a similar newsfeed and status update box.
Connect with Ian on Twitter (@ianpaul).