If you're not bugged out by computer algorithms deciding what's important, Gmail's new priority inbox should seem like a revelation.
The feature, which is rolling out to Gmail users now, arranges e-mail into the sections. The top group of messages are deemed "important," coming from people whose messages you read and reply to the most. Starred messages appear in the middle section, and everything else gets placed at the bottom, organized chronologically like regular e-mail.
As I wait for Google's rollout angels to pass over my neck of the Internet, I dreamed of some other services that could also use prioritization. With any luck, algorithms will be able to ween out the junk from these services as well:

Social Networks
When Google announced Buzz, I initially hoped the service would arrange existing status updates from Facebook and Twitter in order of importance. It turned out Buzz was just Google's own maligned Twitter imitation, so there's still a need for some kind of smart aggregation service. Facebook's "top news" algorithm isn't good enough, because all it does is float my chattiest friends to the top, not the ones I actually care about.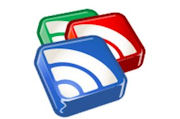 RSS Feeds
My Google Reader is a wreck, littered with similar stories from similar sources in a list that seems to drag on forever. Prioritization could lump these stories together and ween out the boring subjects that I never bother to read about. Basically, I want a personalized version of Techmeme.
Phone Calls
Dealing with unwanted phone calls can be just as inconvenient as e-mail, so why shouldn't voice get the same treatment? With Google Voice, the groundwork is in place for algorithmic call management. Imagine a service that could automatically send people to voicemail unless you've called them before, and used a spam filter to block telemarketers.
Comments
I love hearing from readers, but some comments are better than others, and it'd be nice to see those float to the top. Some blogs handle this with a social voting system, but an algorithm could do better by sniffing out fanboy jargon and rewarding decent grammar. At least that way, when someone calls me an idiot, I'll know when it's from a respectable source.