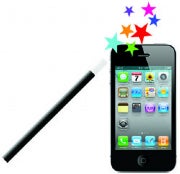 Is Apple readying an updated iPhone 4 with a new antenna, one without the much-publicized signal attenuation problem of the current model? A recent report by Mexican tech news site Canal MX, first uncovered (well, in English) by MacRumors, suggests a hardware fix for the iPhone 4's well-known shortcoming could arrive by the end of September.
In the August 25 report, Marco Quatorze, Director of Value Added Services for Mexican wireless carrier Telcel, discusses the iPhone 4 antenna issue. As of September 30, he says, iPhone 4 handsets sold by Telcel will not suffer from the antenna-related reception glitch. However, the Canal MX report doesn't specify how Apple might fix the problem.
Telcel customers who buy an iPhone 4 before September 30 will get the original model. As a result, they'll also need a protective case or bumper to minimize the problem of dropped calls and poor signal strength. When a user touches a spot on the iPhone 4's lower left side–the so-called "death grip"–the cell signal degrades dramatically.
So is a new and improved iPhone 4 on the way? It's unclear. Apple has said it's working on the problem, and a September fix would certainly be a speedy resolution. Then again, it's entirely possible that the true meaning of Quatorze's comments were simply lost in translation. When Apple CEO Steve Jobs addressed the antenna glitch in July, he announced that customers who buy an iPhone 4 by Sept. 30 could get a free case or bumper from Apple.
Was Quatorze referring to Apple's deadline? Or did he spill the beans on a new and improved iPhone 4? We'll know more in a month-or perhaps sooner.