Only a few weeks ago Dell was taking a beating over its tweener device, the Streak. But now ViewSonic is unveiling a similar mini tablet, the ViewPad 7, which is a phone with a 7-inch screen and 2.2 Android OS, or Froyo, cameras for front and back and 3G data transmission. Could this signal a larger demand for a bigger phone or a smaller iPad?
Specs and photos of the ViewPad 7's European product launch were released today and the phone will be on display at the IFA 2010 show in Berlin. The phone will retail for about $550, according to a company press release on Engadget. Since it's a European launch, it's unknown how much the ViewPad 7 will cost in the United States or what carrier ViewSonic intends on using. But those don't address the biggest problem — reports say that without an added earpiece, it's not really even a phone.
The ViewPad's VGA and 3 megapixel cameras aren't unusual and its 800 by 480 resolution screen isn't exactly great, either. By contrast, the new 7-inch-screen Samsung Galaxy Tab is 1024 by 600 and the 9.7-inch screen iPad is 1024 by 768. Neither are phones.
The Dell Streak was a similar tweener device, offering both phone and tablet capabilities, but was found wanting because of and ancient Android 1.6 OS, a high price and was being outshone by phones with touchscreens 0.7 inches smaller but offering better specs, such as the Droid 2 or HTC Evo.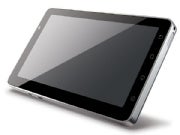 The tweener market has just begun but it's a market that's completely untested and unknown. Does anyone really want a combination device, or are they willing to have two separate products? As of now, the tweeners seem too large for a phone and too small for a tablet PC (try holding a CD case like a phone to your ear. Comfy?)
IPads and tablet PCs are now making their way to more and more workplaces, which seem to have more of a demand for established tablets rather than a new smartphone hybrid which doesn't succeed at being a phone or being a tablet. So far, tweener devices aren't desired or needed by business owners and until such a demand is cultivated by an amazing tweener device, they will likely become extinct.