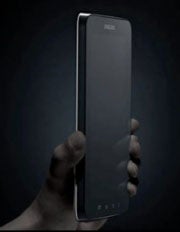 The iPad is about to get some company.
Samsung's Galaxy Tab, a 7-inch Android slate, is set to debut this Thursday. While we've been hearing about the rush of Android tablets for some time now, the Galaxy Tab is arguably the first high-end Android tablet to hit the market and thus the first real contender to Apple's "magical" device.
The iPad may have had a healthy head start in the realm of tablets, but it won't be alone for long — and if Android's attack on the smartphone market is any indication, Apple could have a tough fight ahead.
Samsung Galaxy Tab: What We Know
The info on Samsung's Galaxy Tab is trickling in slowly but surely. Aside from its 7-inch display, we now know that the Galaxy Tab will feature a front-facing camera for video chatting and will run Android 2.2, the most recent edition of Google's mobile operating system.
Unofficially, reports suggest the Galaxy Tab will sport a 1GHz processor and a 3.2-megapixel camera. Alleged leaks point to the tablet's display being AMOLED with 1024-by-600 resolution. The Galaxy Tab is also widely expected to have a built-in GPS system.
In terms of connectivity, Samsung's Galaxy Tab is believed to feature both 3G and Wi-Fi data along with regular phone calling functionality (thankfully, various leaks point to the calls being conducted via Bluetooth, not an in-device earpiece). According to a report published by Boy Genius Report last night, the Galaxy Tab will be offered through Verizon.
The iPad, in comparison to those specs, has a 9.7-inch screen with 1024-by-768 resolution. It has no cameras and but does have GPS, at least in the $629-and-up 3G version (the $499-and-up Wi-Fi edition does not have a GPS system). It runs on a 1GHz processor. And, like Apple's other mobile products, the iPad is currently available through AT&T.
Android Tablets vs. the iPad
Some of the largest differences between the Samsung Galaxy Tab and the iPad, of course, will come down to software: Android and iOS are worlds apart in both style and function. The style side of the equation is a matter of personal taste, but there are some clear comparisons we can make when it comes to the platforms' functions and how they'll affect the tablet-using experience.
While Apple's operating system has its strengths, there are numerous areas where an Android-based tablet like the Galaxy Tab could have an advantage:
• App support. Apple's App Store may have a larger selection than the Android Market, but Android's open ecosystem allows you to install anything you want — no Jobsian approval required. That means there's no censorship of things like political satire, celebrity cartoons, or even porn (remember, by Steve's definition, "porn" can include images of women in swimsuits). And no, that doesn't mean you're suddenly at risk for all sorts of unthinkable viruses.
• Tethering. Android's open approach to apps opens up the potential to use a tablet for fee-free tethering. In other words, you could get your laptop online via your tablet's 3G connection without having to pay anything extra.
• Flash. Look, the idea that there's no need for Flash on a mobile device is simply wrong. Love it or hate it, Flash is still a big part of the Web, and omitting support for it restricts what you can do. Especially for a tablet device, being able to access any material you need is going to be a big selling point. (Contrary to what you may have heard, by the way, Android's support of Flash does not cause devices to crash, burn, or be drained of all battery life.)
• Full access. Android devices can be used like hard drives: You can drag and drop files from your PC, and you can browse your device as if it were a computer. On a smartphone, this is convenient. On a tablet, it's invaluable.
• Full multitasking. Android allows you to run multiple programs at the same time. Apple's newest edition of iOS allows for only limited and carefully defined types of multitasking. Particularly on a tablet, the former approach has some obvious advantages.
Android devices also tend to have removable batteries, something Apple's mobile hardware does not support. One would imagine this trend will be carried over into the tablet realm.
And finally, there's the issue of USB support — namely the fact that Apple's iPad doesn't have it. If Samsung is smart, it'll offer full USB connectivity on its Galaxy Tab to further set the device apart.
Welcome to the (Tablet) Jungle
Samsung's Galaxy Tab is just the beginning of Android's entry into the tablet battle. Motorola is expected to have a high-end Android tablet on the market sometime in the coming months; the latest rumors point to it being a 10-inch device with Google's as-of-yet unreleased Android 3.0 operating system. Samsung itself is believed to have additional Android tablets in the works, too, including 8- and 10-inch versions of the Galaxy Tab described above. Even Google may be unveiling its own tablet before long, though it could very well end up running Chrome OS instead of Android.
Ultimately, it's all good news for us: Just like we're seeing with smartphones right now, the more competition there is, the more each manufacturer is forced to fight for our buying dollar. As our options expand, innovation improves and products get increasingly better. Android will no doubt be a fierce contender in the tablet war, but Apple isn't about to lie down and disappear.
No matter how you look at it, this battle will benefit us all.
JR Raphael is a PCWorld contributing editor and the author of the Android Power blog. You can find him on Facebook, on Twitter, or at eSarcasm, his geek-humor getaway.