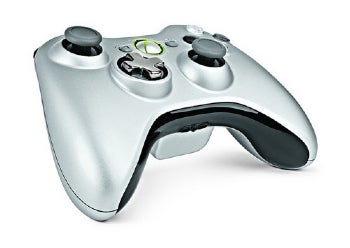 For gamers who've griped about the Xbox 360's leveled down d-pad, Microsoft's telling old-school controller fans 'have it your way'. In fact: Have it both ways.
On November 9, the company says you'll be able to buy a version of the Xbox 360 gamepad with a twistable d-pad, one where the 'cross' portion can be either flush with the surrounding circle, like the current gamepad, or raised, where the cross lifts several millimeters above the disc.
That's most of all to please fighter fans, weaned on simpler button styles, like the Super Nintendo's firmly embedded and more directionally predictable d-pad. Fighting games in particular benefit from deterministic controls, allowing players to gauge, practice, and then depend on subtle thumb twists and jabs that oscillate between perpendicular and diagonal movements or involve stringing together complex sequences of d-pad slides and taps.
The new Xbox 360 d-pad in its raised position claims to provide exactly that, touting a more rigid, directionally distinctive crosspiece to jam on.
It should also offer easier navigation of wheel menus in games that require the d-pad (and not one of the analog sticks) to access inventory items or weapons. Zipping right or left and up or down is never a problem, but hitting the diagonal option off the bat without first sliding into it from vertical or horizontal has always been a trick for disc-style d-pads.
Another thing this could fix is the Xbox 360's touchy crossbar interface. As you're tapping left or right, one inadvertent half-nudge up or down on the d-pad resets your position on the menu, moving you into a different navigation category entirely. The existing Xbox 360 d-pad exacerbates the problem if you're tapping quickly (as most of us do). That's been a bugaboo of mine since the New Xbox Experience launched in late 2008.
The other upcoming change involves fussing with the gamepad's button color scheme. Instead of the colorful blue-red-green-yellow array, Microsoft's opted to paint the new gamepad's buttons scintillating shades of gray, white, off-gray, and off-white. In lieu of mocking–are blander colors Microsoft's idea of hip?–I should probably offer a speculative nod to color-blindness possibly being on Microsoft's mind here, though to what end, I couldn't say.
Now the downside: Microsoft's charging $64.99 for the thing, bundling it with a Play and Charge kit (regularly $19.99). The latter is of course superfluous for most Xbox 360 owners, who probably already own one. Leave it to Microsoft, a company with a history of gouging its customers, to take a grand idea and sully it.
I'll probably buy one anyway, of course.
Follow us on Twitter (@game_on)