Apple's music-centric event today promises to bring new iPods, an iTV update, and perhaps a new video streaming service. To capitalize on streaming online video's popularity, Apple will be broadcasting the event live to test its new server farm — but only on Apple products. So if you have these specs:
A Mac running Safari on Mac OSX version 10.6 Snow Leopard
An iPhone or iPod touch running iOS 3.0 or higher
An iPad
… then Apple loves you; you can watch. If not, Apple has left you out in the cold.
(Apple has provided a sample stream so you can check if your OS can view the event.)
MacRumors has devised a clever workaround for those who Apple is leaving in the dark. "The HTTP Live Stream protocol is based on very standard technologies. The stream is simply provided in an MPEG2 playlist (m3u file) that is added to as the stream continues," MacRumors wrote.
Here's what you'll need:
A download of VLC (a free, open-source cross-platform multimedia player and framework)
VLC should then be able to stream using this URL: http://devimages.apple.com/iphone/samples/bipbop/gear1/prog_index.m3u8
Patience: VLC can stream pre-recorded streams just fine, as it knows what's coming next. However, with a live stream, it doesn't, so you'll have to repeatedly reload the playlist manually to get the next few segments.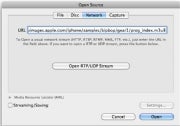 It's not exactly the best solution, but with Apple behaving like a spoiled kid with all the best toys, it'll have to do.
For those not willing to take that step, PCWorld will provide coverage with a live blog that can be found here.
You can also hack your PC to run OSX, but that seems a little radical. Apple will post the full event on its Web site later today or tomorrow, as it always does.
You can also check out MacWorld's Live Update of the event.