Instead of racing to the bottom with price or adding Internet connectivity, the latest generation of Sony Readers are fully invested in the touchscreen.
Gone is the touchscreen overlay of the old Touch and Daily Edition Readers, which was unresponsive with a side effect of glare and contrast problems. All three of Sony's new Readers — the 5-inch, $179 Pocket Edition; the 6-inch, $229 Touch Edition; and the 7-inch, $299 Daily Edition — use infrared sensors to track the user's fingers.
I haven't tried the new Sony Readers, but I trust my colleague Melissa Perenson's conclusion that the infrared sensors are highly responsive and a complete turnaround from the last generation. Still, I'm left wondering whether the "wow" factor of this new feature outweighs the Reader's disadvantages against Amazon's Kindle and Barnes & Noble's Nook.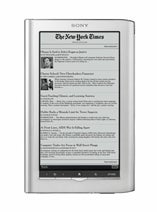 First, let's consider the benefits that a touchscreen e-reader provides. Moving navigation functions onto the screen itself means Sony can cut away excess hardware, leaving only a small sliver of physical buttons underneath the touchscreen. Indeed, Sony's Touch Edition reader is almost an inch shorter and an ounce lighter than Amazon's Kindle, and less than a tenth of an inch thicker. A touchscreen is also more intuitive for navigation than physical buttons.
But if you're spending a significant amount of time navigating your e-reader, you're doing it wrong. Let's not forget that an e-reader's primary function is to read books. For that, you only need two actions: page forward, and page back. As pleasant as the touchscreen may be, it's not going to be any better at turning pages than side-mounted buttons.
Keep that in mind when considering the shortcomings of Sony's Readers. They're more expensive — the basic model costs $40 more than a Kindle — and only the top-tier Reader Daily Edition supports Inte
rnet connectivity and an on-board book store. Because Sony's strategy is in hardware sales, not books, the company has shown no interest in bringing its Reader Library software to smartphones and the iPad. Sony misses the point that the Nook, Kindle, and Kobo hardware are more attractive because of their outreach with software.
Sticking to the high-end is a classic move for Sony, but when the company ignores features that are standard in other e-readers, it gives the impression that Sony is more concerned with flash than substance.
Reader Touch Edition PRS-650