Both Sony and Borders have shifted things around this week on their e-reader product lines to compete more aggressively as we approach the holiday season. The opposing strategies are a stark contrast in how to take on the Amazon Kindle, and neither is likely to succeed.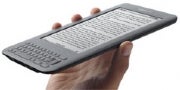 Since Amazon launched the original Kindle nearly three years ago, the concept of a dedicated device for reading electronic books has continuously gained steam. A variety of competitors–including Sony, Borders, and Barnes and Noble–have entered the fray, and the functionality of electronic books and documents has gained credibility as a tool for business as well.
Amazon recently launched its next-generation Amazon Kindle. It is smaller and thinner than its predecessor while maintaining the same 6-inch display size. It is faster, has more storage capacity, and a ridiculously long battery life. Oh–and it has the benefit of the Amazon Kindle brand which is synonymous with e-readers.
Borders is taking the path of least resistance with its strategy: cut prices. The Wall Street Journal reports that the Kobo will drop to $129.99, and the Aluratek Libre will sell for $99.99. Neither device compares all that favorably with the latest models from Amazon and Barnes and Noble, but the under $100 price point might be a sweet spot that attracts some attention.
Sony is opting for an indignant strategy. Rather than simply slashing prices to undercut the Kindle, Sony has chosen to take the high road and try to out-innovate Amazon and other e-readers. A review of the new touchscreen feature by PCWorld found it to be compelling, but my PCWorld peer Jared Newman rightly points out "if you're spending a significant amount of time navigating your e-reader, you're doing it wrong."
Not only is Sony hoping that a touchscreen e-reader is enough of a lure to steal market from Amazon, but it expects that users will want the touchscreen so much they will be willing to pay a hefty premium for it. The low-end Sony Reader Pocket Edition has no wireless connectivity, and a smaller display than the Kindle, yet sells for $40 more. To get a Sony Reader equivalent to the Kindle in size and features costs $299–more than double the $139 cost of the Wi-Fi Kindle.
Ultimately, the value of selling the e-reader is not the e-reader itself, but the ongoing sales of electronic media to be consumed on the e-reader. To that end, Sony is at a distinct disadvantage because it is literally only in it for the e-reader hardware sales. Amazon, Barnes and Noble, and Borders can afford to get into a price war and virtually give away the e-reader devices as long as they can make it up in e-book sales in the long run.
From a business perspective, it makes sense to choose an e-reader platform that is stable and not likely to fade away suddenly. Sony and Borders have to do something to compete, but the Kindle has a dominant hold on the market, and the speed at which the most recent launch sold out indicates that it won't be slipping any time soon.