Many moons ago I wrote about TouchFreeze, a free laptop utility that solves one of life's most maddening problems: accidental swipes of your touchpad while typing. (Why isn't Windows smart enough to do this on its own? Just saying.)
Recently, a rather disgruntled-sounding reader wrote to complain that TouchFreeze isn't compatible with Windows 7. (Don't blame me, lady, I didn't write the thing!)
I pride myself on being the cure for disgruntlement, so here's a solutuion: TouchpadPal, another freebie that automatically disables a laptop's touchpad when it detects any keyboard activity (like typing).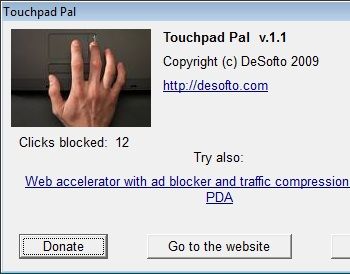 And unlike TouchFreeze, TouchpadPal is compatible with Windows XP, Windows Vista, and Windows 7.
If you've been tearing out your hair over accidental brushes of your touchpad, this simple utility should do the trick. By the way, although it's free, the author does encourage donations–and so do I.
(And just so you know I put my money where my mouth is, I just made a donation to the author of the excellent My Channel Logos add-on for Windows Media Center. Felt good, too.)