Catsgirl complained about "big Bing, little Bing, everywhere a Bing Bing." She asked the Answer Line forum how to get Bing out of her face.
The first thing you need to do is change your browser's default search tool. I'm guessing you're using Internet Explorer because that's the one that defaults to Bing.
Click the down arrow next to the browser's search field–not one on a Web page or on the Bing toolbar, but the one on the top-right corner of the browser window. Select Find More Providers.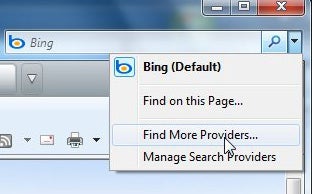 Pick your desired search engine and click Add to Internet Explorer. In the resulting dialog box, check Make this my default search provider and click Add.
If you have the Bing Toolbar, you'll probably want to remove that, as well. You can uninstall it through Control Panel's Add/Remove Programs applet (called Programs and Features in Windows 7).
Click Start (Start, then Run, in XP), type appwiz.cpl, then press ENTER. Find and select Bing Bar, click Uninstall, and follow the prompts.
My thanks to Coastie65 and Ramus for their contributions to the original forum discussion.
Add your comments to this article below. If you have other tech questions, email them to me at answer@pcworld.com, or post them to a community of helpful folks on the PCW Answer Line forum.