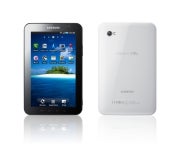 Samsung's latest addition to its Galaxy series, the Galaxy Tab Android tablet made its very first appearance today at IFA in Berlin. The Tab will initially launch in Europe in mid-September and makes its way to the U.S. and Asia in coming months.
There have been a number of Android-based e-readers and tablets to debut over the last year, like the Barnes and Noble Nook and the Archos 7 tablet, for example, but the Samsung Tab looks the most intriguing. Of course, a comparison to the Apple iPad is inevitable. But based on its specs, as well as my hands-on experience with the Galaxy S phones, the Tab looks like it will be a worthy challenger to the iPad.
Last week, a quick teaser video of the Tab made its way across the Internet and confirmed the many rumors surrounding the device: The 7-inch display will run Android 2.2 (Froyo, with support for Adobe Flash content) with an optimized version of Samsung's TouchWiz software and will sport a 3.2-megapixel camera.
At today's launch, Samsung revealed some more specs and details about the Tab. The 7-inch display is a TFT-LCD display with a 1024-by-600-pixel resolution. For comparison, the iPad has a 1024-by-768-pixel display. In addition to the 3.2-megapixel back-facing camera, the Tab will also have a front-facing 1.3-megapixel camera for making video calls. The Tab is powered by a Cortex A8 1GHz processor and can play back HD video content, supported by a wide range of multimedia file types (DivX, XviD, H.264, MPEG-4 to name a few).
The Galaxy Tab will come in two capacity models: 16GB and a 32GB of internal memory. Unlike the iPad, the Tab's memory is expandable; both models come with a 32GB external memory slot.
A big difference between the Galaxy Tab and other Android tablets out there is that it is Google certified. This means that owners will have access to the ever-expanding Android Market for games and apps. Owners will also have access to Samsung's MediaHub, an online TV and movie store for renting and buying video. Additionally, Samsung will launch its ReaderHub for buying and reading e-books and the MusicHub for purchasing music. While the MediaHub will definitely be supported on US devices (including all of the Galaxy S phones), it hasn't been confirmed if the MusicHub or ReaderHub will be available in the states.
The Galaxy Tab also has 3G and Wi-Fi connectivity, which supports the rumors that the Galaxy will be offered by a U.S. carrier (currently the rumor mill is looking at Verizon, but Samsung neither confirmed nor denied this). Right now, it doesn't look like there will be a Wi-Fi model at launch, which might deter some customers from buying the Tab right away.
Whether the Tab succeeds or fails will depend on its price as well as the accompanying data plan that will inevitably come with it. The Tab models should be priced competitively with the iPad and Samsung should also offer a Wi-Fi-only model in addition to the 3G model for users who don't want to pay for data plans on multiple devices.
Note: When you purchase something after clicking links in our articles, we may earn a small commission. Read our affiliate link policy for more details.