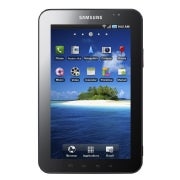 Samsung debuted the Galaxy Tab on Thursday, a portable tablet computer that just might be the first significant challenger to Apple's iPad. The Galaxy Tab features a 7-inch multitouch display, rear- and front-facing cameras, 1Ghz processor, 1080p high-definition video playback, maximum 64GB storage and Android OS 2.2. The new tablet device will also come with 3G, Bluetooth 3.0 and 802.11n Wi-Fi connectivity. Samsung says the Galaxy Tab is only the beginning of the company's foray into touch-based tablet devices.
Let's take a closer look at the Samsung Galaxy Tab.
7-inch Display
The Samsung Galaxy Tab features a 7-inch WSVGA TFT-LCD color display with 1024-by-600 pixel resolution. The device is capable of 1080p HD video playback for all kinds of video formats including XviD, MPEG4 and h.264. The Galaxy Tab is also the first DivX-certified tablet, which means you can play and store DivX video on the Galaxy Tab with no need to convert files to another format.
You can also use the Galaxy Tab to connect to other DivX-certified devices, such as HDTVs, to display copy-protected content, according to DivX Inc. The Galaxy Tab is compatible with DivX paid content from providers such as Roxio CinemaNow and The Warner Bros. Shop.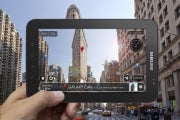 Android OS 2.2
The Galaxy Tab is based on Google's Android 2.2 (froyo) mobile operating system including support for Adobe Flash 10.1. Samsung has included Exchange Active Sync Support, along with a social hub that brings together your SMS, IM, calendar and e-mail. Calendar support includes Facebook events, Google Calendar and Outlook. Supported Google services include Google Maps, Latitude, Places (Google's not Facebook's) and navigation.
Samsung has also thrown its TouchWiz overlay onto the Galaxy Tab, an interface that has garnered mixed reviews for being attractive but sluggish. Other UI tweaks include the Swype text input technology and the Layar augmented reality browser. The Galaxy Tab includes access to the Android Market as well as Samsung's own application store.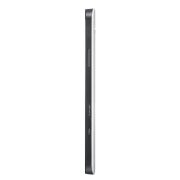 Slim profile
The Galaxy Tab offers a very slim 0.47-inch profile, which is just slightly thinner than the iPad's 0.50-inch figure. Samsung's new tablet measures 7.48 inches wide and 4.74 inches tall, and weighs in at 0.84 pounds. But there's a lot of power packed into this small package. The Galaxy Tab features an A8 Cortex 1.0GHz processor with the PowerVR SGX540 3D graphics processor.
The Tab comes in 16GB and 32GB sizes, and both models feature a microSD expansion slot capable of supporting an extra 32GB of storage space. Samsung claims the Galaxy Tab's battery provides 7 hours of video playback.
The Galaxy Tab features a 30-pin dock connector on the bottom of the device; a volume rocker, power button, and microSD and SIM card slots on the right side. However, it's not clear if the U.S. version will include a SIM slot as rumors suggest the device may be headed to Verizon's CDMA network.
3-Megapixel Camera
The new Galaxy Tab features a 3-megapixel rear-facing autofocus camera with an LED flash for low-light environments. Samsung hasn't indicated whether the rear camera includes zoom capabilities. The camera captures still images and video with 720-by-480 pixel resolution at 30 frames per second.
Samsung says you can use the Tab to "edit, upload and share" photos and videos, but it's not clear if that means you will be able to do onboard image editing as you can with the iPhone 4 and newly announced iPod Touch.
1.3 Megapixel front-facing camera
The front of the device includes a 1.3 megapixel front-facing camera for video chat capability over 3G and Wi-Fi. It's not clear if Samsung's Galaxy Tab video chat will let you switch between the rear and front cameras, but the hardware capability is certainly there.
Availability
The Galaxy Tab will be available in Europe within the next two weeks, and Samsung promises a U.S. launch in the coming months. Rumors suggest the 3G-capable Galaxy Tab will launch on Verizon. Samsung has yet to announce pricing or whether there will be a Wi-Fi only version of the Galaxy Tab.