Many users are familiar the free versions of TeamViewer and CrossLoop programs, which allow you to control a PC remotely. However, those programs also come in pricier versions for business use and professional technical support systems. That's the market space that Elsinore's ScreenConnect ($250, limited demo) remote control and support software plays in. And it's a worthy player indeed.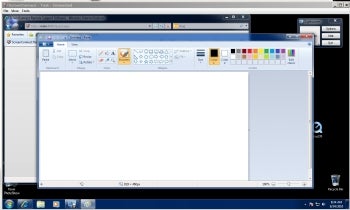 Setting up ScreenConnect is easy, but the nomenclature will be a bit difficult for anyone not used to remote control software such as VNC. First, using ScreenConnect's HTML interface you create a user (this required upon installation), then you create a session (host), then you forward the URL for that session to the user who needs support (guest). The user browses to the URL you forwarded, where they join the session. You may also require a joining user to enter a code or select a session from a list. At this point a Java or .NET client is downloaded, which initiates the support session and lets you begin remote-controlling their PC, chat, or transfer files. The software supports Windows, the Mac, Linux, and even Android-based cell phones.
The only tricky part can be configuring the program. You need to tell your router to forward the port (ScreenConnect uses port 8040 by default) to the PC hosting the support software, i.e., the PC that will be hosting/helping/ controlling the PC that needs support. This extra step is required only for users outside your local area network; local network users may connect freely to the support PC without any router configuration.
ScreenConnect worked perfectly for me controlling Windows PCs, Macs, and Linux machines as long as Java was up to date.
If all that sounds a bit daunting, stick with the TeamViewer. If it doesn't, then ScreenConnect offers some of the best pricing in the industry for anyone looking to set up a remote support desk that's a bit more elegant than the free VNC solutions: $250 for life for a single seat/single PC connection, and $2500 for a single seat with as many concurrent sessions as your PC can handle. TeamViewer costs $749 for single/single, and $2600 for a single seat with three connections. CrossLoop is PC-only, but it's cheaper at $70 per year for one license with unlimited connections.